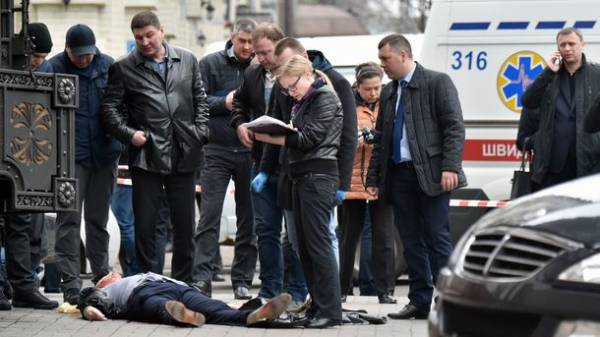 The murder of Denis Voronenkov was committed by a citizen of Ukraine, Parchovymi Pavel Alexandrovich, born in 1988, native of the city of Sevastopol, an agent of the Russian intelligence services. About this in Facebook wrote the MP, adviser to the Minister of internal Affairs Anton Gerashchenko.
"During his life, Paul Parsow never officially traveled outside Ukraine.
But in February 2015, he crossed the border of Ukraine after having walked through one of the checkpoints on the border with Belarus. In Russia, where he stayed before getting to Ukraine, he passed a course of special training school for spies established in the times of Stalin's NKVD. He was tasked to infiltrate one of the units of the armed forces or the National guard, preferably with a big name in the public consciousness, and to pretend that he was an ordinary soldier," he wrote.
This task, as noted Gerashchenko, Parsow successfully completed year served in one of the units of the National guard.
"In the fighting did not participate. Resigned in August 2016.
Then waited for the command to act from Moscow. Yesterday, he got it, and today fulfilled, taking with him to the grave of Denis Boronenkov," wrote Anton Gerashchenko.
According to him, the investigation examines all the circumstances of the preparation and organization of the murder of former State Duma Deputy, a citizen of Ukraine Denis Boronenkov. Since the murder of hours the result already known a lot.
"It is also hard revision will undergo the validation criteria for admission to the APU, the National guard and other law enforcement agencies of Ukraine on the possible involvement of Russian secret services. Since it is not known yet how many of these Pavlov Parchevich send us in recent years, the Ukrainian security services, the police, National guard, Armed forces and other authorities", – wrote the MP.
Note that on the website of the Ministry of interior Parsow listed as a wanted accused under articles 205 and 209 of the criminal code of Ukraine ("Fictitious entrepreneurship and legalization of income obtained by criminal means").
We will remind, on March 23 in Kiev in the shooting death of a former member of the Russian state Duma Denis Voronenkov, who took Ukrainian citizenship and testified against fugitive President Viktor Yanukovych.
It is known that the killer Boronenkov died on the operating table.
Kiev police registered a "murder" part 2. article 115 of the criminal code, but may then be taken other decisions and other authorities will investigate this crime. Also the case is already transferred to the city Prosecutor's office.
.
Comments
comments