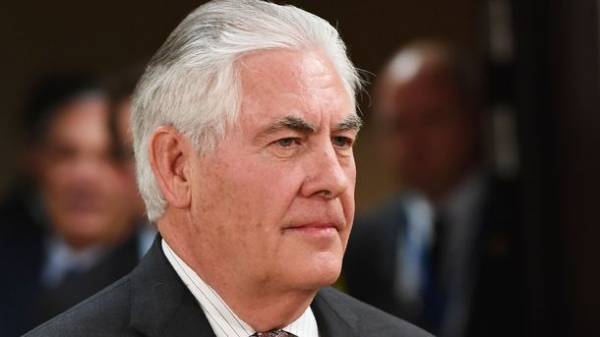 The statements of U.S. Secretary of state Rex Tillerson about the Russian aggression puzzling, said in a statement on the foreign Ministry website.
Earlier, Tillerson, suddenly speaking to reporters ahead of a meeting of foreign Ministers of member countries of NATO declared that the Alliance intends at this meeting to discuss the actions that NATO is taking in response to Russia's aggression.
"On March 31 in Brussels held a meeting of the NATO Council at the level of Ministers of foreign Affairs. Called it early to adjust to the "busy schedule" of Secretary of state Tillerson. Overseas guests waited to jointly reaffirm the strength of the transatlantic coupling that with the arrival of a new administration, some people have had doubts," — said the Minister.
The Ministry stressed that the common motive of foreign Ministers of NATO countries is the myth about the Russian threat, slander about the Russian aggression and endless incantations about the need to confront it collectively.
"Perplexed relevant statements of the Secretary of state Tillerson. We regret to state that this kind of rating was announced the day after the meeting of the Council Russia-NATO at the level of permanent representatives, where, in recognition of the Secretary General of the Alliance, Stoltenberg, "in an open and constructive atmosphere" was held a meaningful discussion on a wide range of issues," — said the foreign Ministry.
The Department also noted that NATO puts their ideological dogma above real work on solution of global problems
"In fact, we impose a confrontational paradigm based on the logic of military confrontation", — concluded the Minister.
Comments
comments