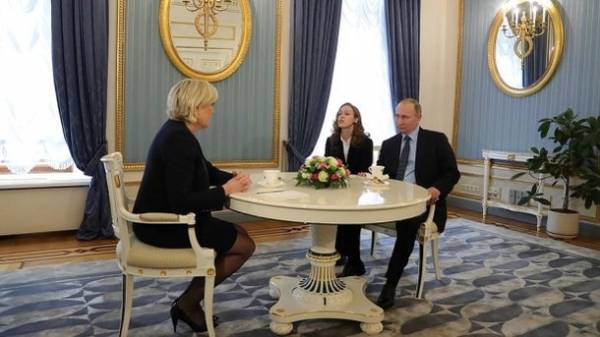 The President of Russia Vladimir Putin does not intend to interfere in the electoral process in France. He stated this during a meeting in the Kremlin with the candidate for the French presidency, marine Le Pen, gives a press-service of the Kremlin.
According to him, he does not want to spoil relations with France, therefore, does not intend to interfere in the elections, which are now in full swing.
"We attach great importance to our relations with France, while we try to maintain good relations with both representatives of the authorities and the opposition. We in any case do not want to influence events (the election process – ed.) but reserve the right to communicate with all representatives of all political forces of the country, as do our partners, for example, in Europe, in the United States," said Putin.
Previously, American financier, philanthropist and billionaire George Soros declared that 2017 may be observed unexpected results of the elections in European States, where the Kremlin propaganda will help to Pro-Russian candidates.
"The same thing will probably happen in the European election season 2017 in the Netherlands, Germany and Italy. In France, both the leading candidates are close to Putin and seek to appease him. In case of victory of any of them, the dominance of Putin in Europe will be a fait accompli – accomplished fact," said the billionaire.
In turn, CIA Director John Brennan also said that Russia in recent years tried to influence political processes in Europe, and many European countries concerned about possible attempts by Moscow to interfere in the upcoming 2017 elections.
Comments
comments