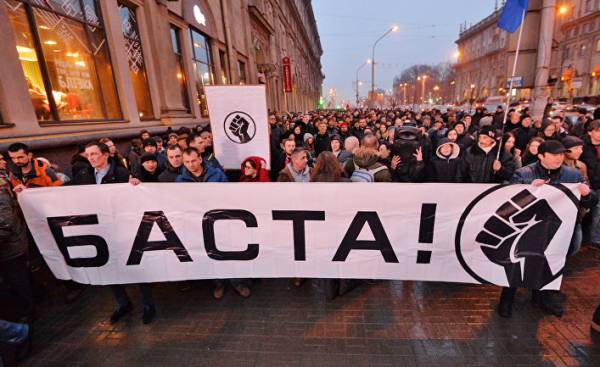 "In #Belarus detained more people. My friends and colleagues. #Lukashenko reminds the world that there are people who can't change."
So on Thursday wrote Hannah Liubakova, Belarusian journalist living in London, tweeted. Her tweet meant Alexander Lukashenko called Europe's last dictator and the President of Belarus.
Also on Thursday, two days before the next major planned protest, the Belarusian state television reported that the country's security service, still called KGB, detained an unspecified number of people suspected of planning mass riots.
Just last month resumed talks that Lukashenka turns away from Russia and focused on Europe. He lingered between them for many years, and he redoubled his efforts to get out of the shadow of Moscow after the annexation of Crimea in 2014.
Flirting with the West, to temper Russian influence, is a strategy, which has long been used Lukashenko told Foreign Policy Rojansky Matthew (Matthew Rojansky) of the Kennan Institute at the Wilson Center. "That is why Lukashenka has consistently condemned the annexation of Crimea by Russia and tried to restore ties with the West over the last few years."
Case in point: in January of this year, Belarus declared a visa-free regime for citizens from 80 countries, including the United States. And when Russia threatened to halve oil exports to Belarus and create a safety zone where there was previously almost open border with Belarus, Lukashenko said that his relations with Russia have worsened because Russia is afraid that Belarus will turn to the West.
But, it seems, Lukashenko himself is afraid. Since March 1, was arrested over 150 people for protesting against the "tax for parasites" for the unemployed. According to Lukashenko, he had to deal with "social parasitism". But, somewhat surprisingly, mass, in response, took to the streets and continued to protest even after March 9, when it was announced that the tax was suspended until 2018.
Last Sunday was arrested at least three leaders of the protest, and now even more before the planned Friday protest. On Tuesday, Lukashenko said that the authorities arrested members of the so-called fifth column of foreign fighters, trained in Ukraine and in Poland and Lithuania. "There are people who seek to undermine the situation in the country. I call them the fifth column. They are not the opposition. They want to organize an uprising in the country," he said.
The press-Secretary of Lithuanian foreign Ministry rejected the statement Lukashenko. The Minister of foreign Affairs of Lithuania Linas Linkevičius "have not heard of a reasonable request on the part of Belarus", — said FP representative of the press service. He advises "Belarusian administration to stop looking for in other countries and within the state of enemies who can be blamed for the tense situation in Belarus", — she added. The Ministry of foreign Affairs of Ukraine and Poland did not immediately respond to a request for comment.
The fact that Lukashenko blames foreign instigators, was not a surprise, said Rojansky. "It was his message that touched and protest movements for more than a decade ago, he believes that it is external, usually Western, the plot to destabilize Belarus."
And the fact that Lukashenko has moved on from its Pro-Western rhetoric to accuse their neighbors "suggests that Lukashenko will continue the policy of balancing, in response to pressure and opportunities from all sides," said Rojanski.
But the detainees — is a protest organizers and journalists. This indicates that now the greatest pressure on Lukashenko is not Russia or the West, while Belarus itself.
Comments
comments