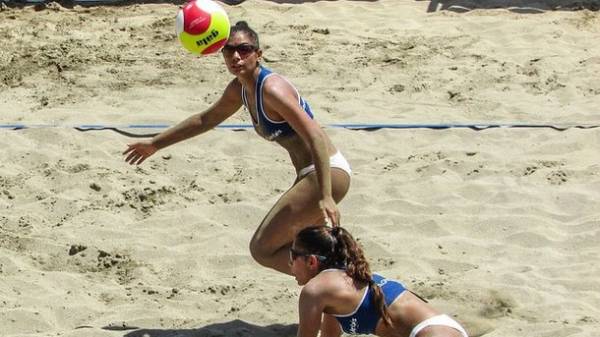 Want to be slender, many, but not all it turns out someone just to be lazy, and someone don't have the time or motivation.
American personal trainer and member of the International Association of Sports Sciences John Rowley told how easy to burn up five hundred calories a day during the summer holidays, reports "New time".
According to the expert, in the summer people want to spend less time at the gym. In order not to lose shape and to relax, the coach advises to spend time actively, especially with friends. The best choice for the hanging out will be a moving and entertaining game that will help discreetly and are happy to burn calories and keep fit.
Volleyball
Thanks to running, jumping, bending and hitting the ball can burn up to five hundred calories per hour and maintain muscle tone. In addition, this game will strengthen the health of the heart and will make your legs more slender. Another feature of volley is that all the advantages of the game can get not only experienced players but also beginners.
Badminton
At first glance, a simple game is a serious workout for all muscle groups. Plyometric exercises will not only help to get a toned body, but also burn up to four hundred calories every hour, without even noticing it.
Spitbol
A game resembling volleyball, recently received wide acclaim. In it, players jump, run, throw the ball and bend over, so get a good load on the muscles. Just 15 minutes of play, the average person does step 831 and burns 116 calories.
Frisbee
According to Rowley, the Frisbee is one of the best ways to burn calories. A game involves jumping and running, and the sand creates extra resistance, which is useful for slimming the legs. The average person burns up to 208 calories per hour.
SOx
A simple children's game not only helps to lose weight by burning 277 calories per hour, but also develops coordination. All you need is one SOx and a few friends.
American football
For fans of more hard games trainer offers American football. Entertaining team game is a great alternative cardio workouts: just half an hour can burn up to three hundred calories. Additionally, this sport helps to tone the muscles.
Comments
comments