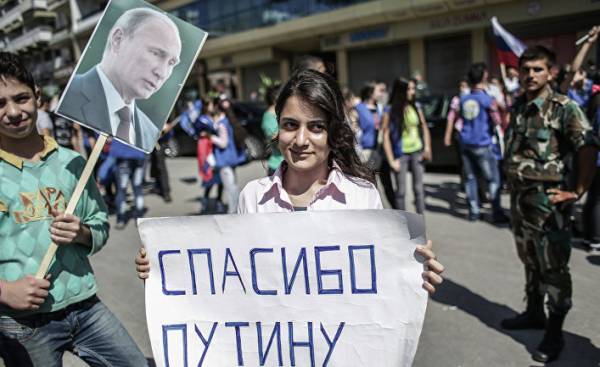 Completely dependent on Russia, President Bashar al-Assad is ready to discuss everything, including the proposed Russian Constitution for Syria. He acknowledged that Russia's support of the air force ensured the progress of the Syrian army, especially in Aleppo and Palmyra. Bashar al-Assad has expressed a desire to also protect Syria from Israeli bombing.
On the question of Russian media about the Russian proposal to form a Committee to draft a new Constitution for Syria's Bashar al-Assad said: "We are willing to discuss anything, including the Constitution, but we need to see who will go to Geneva, will they discuss the same document or not." "The position of our government clear. We are ready for the detailed discussion and, of course, supported the idea," reported Reuters.
With regard to relations between the Syrian regime and Russia, Assad says, "they last for many years, so Moscow knows the details. After the war she owns the information about what is happening". "The support of Russia from the air was sufficient that the Syrian army was able to advance on different fronts, mainly in Aleppo and Palmyra, as you know," he said.
He expressed confidence that Russia can play an important role in the prevention of "Israeli" bombing of sites in Syria, saying that "the whole policy of Russia is based on international law, UN documents and decisions of the Security Council. Thus, Moscow will be able to have a conversation with Israelis within the framework of set standards and an important role to play to prevent an Israeli attack on Syria in the future."
Russia on the side of the Assad regime intervened in his battle against rebel groups in late September 2015, when Damascus could fall into the hands of the rebels. According to the Minister of foreign Affairs Sergey Lavrov, Moscow seven times vetoed resolutions against the regime in the Security Council. In addition, the Russian government Hamim in the province of Latakia were deployed With air defense systems s-400. This system can shoot down aircraft from a distance. It is known that Israeli aircraft are not included in the airspace of Syria symbolically, only to avoid colliding with Russian aircraft as part of military-political coordination at the highest level between Moscow and tel Aviv.
Comments
comments