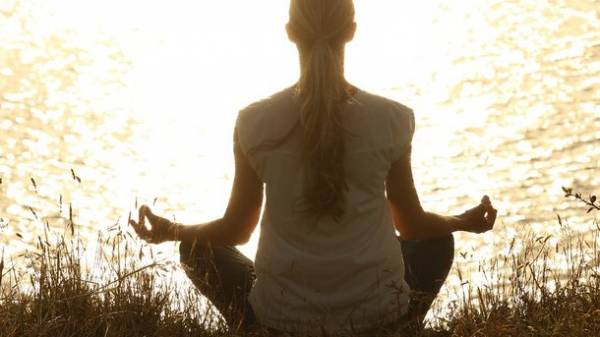 Proper sleep, proper music and meditation — all of it perfectly relieves stress and fights stress. Likar.info picked up a mobile application for smartphones that are best suited for meditation.
Meditation is a psychological exercise, during which the person is to achieve harmony, immersed in contemplation. Practice appeared more than 5,000 years ago in India and now it is used by people all over the world. For example, to meditation each year regularly use more than 18 million American adults. There are many different forms of meditation. One of the most common is transcendental meditation, where a person is twice a day immersed in contemplation for 20 minutes (a must — sit with your eyes closed).
If the meditation is used to reach a spiritual perfection, it is now resorted to combat stress, improve health. It lowers blood pressure, eases some gastro-intestinal disorders, relieves anxiety.
As with every year the number of people with stress, meditation is a good way to get rid of this condition. Now smartphone owners can literally one touch to install it on your device app for meditation, and work on their psychological state. There are more than 1,000 mobile applications for meditation, and, of course, easy to get lost. We decided to select the best. They are available for Android and iOS.
Headspace
The app was developed by Andy Puddicombe, a former Buddhist monk. Today it is the most popular service for meditation all over the world. The functionality is simple: you get a free 10-day trial version (Take 10), which can be considered the basic level of meditation.
Headspace is striking in its simplicity, versatility, great introductory video. This is a great app for those who previously have never tried to meditate.
Access to the entire app you can get for $7.99, but only if you listened to the free 10-day meditation course. Because of this free test one can determine whether he needs do meditation, it helps him or not.
Full version Headspace offers a lot of interesting and useful. This service has a large number of target series, covering practically all spheres of life: health, sports, relationship, business. Each series has a thematic compilation of meditation, lasting 30 minutes.
Whil
The creators of the app Whil Chip and Shannon Wilson previously produced popular clothes for sports and yoga. A few years ago they came up with the service for meditation, designed for offices. "White collar" very little free time. Many of them have no time not only for sport, but for a short meditation. So Wilsoni came up with the app with a one-minute meditation sessions.
You can set up business Whil and pick up a personalized training program for each employee individually. All in all, Whil contains four training programs meditation: "Grow" (for Teens), "Thrive", "Lead" and "Move" (for adults). The most popular "Move", aimed at training the mind and body.
Whil can use everything, not just office workers and schoolchildren. It is an effective service through which you can quickly get rid of stress.
Sattva
Mobile application Sattva (it has a self "Meditation Timer & Tracker") is intended for experienced users. There are no special sessions or lessons for beginners. If you've never tried meditation, then this service is definitely not for you. It will prefer more experienced users. For them, Sattva is a great option.
Sattva iOS easily integrates with mobile Health app, allowing for meditation, you can see the heart rate and blood pressure. The service is also available for Apple Watch. It's enough to call "Quick start" and then select "Guided meditation" or "Chant".
It also measures the heart rate before meditation and after it.
Most of the sessions in this app are free. However, there is also a paid session at a price like $1.99.
Smiling Mind
Mobile app Smiling Mind is designed both for adults and teenagers and even children. It has three modules: "Smiling Mind for Wellbeing", "Smiling Mind in Education" and "Smiling Mind in the Workplace." The adult program consists of 10 modules and 42 sessions and workshops called "Bite Size", with a duration of 1-3 minutes.
Much attention is paid to children and adolescents. With these classes they will learn to communicate, tolerate friends and acquaintances, will receive support in case of any problems. A special program for young people aged 16-18 years will help them plan for the future and to better adapt to adult life.
Smiling Mind is also available for free.
Stop, Breathe & Think
App Stop, Breathe & Think has a short name "Breathe" and user-friendly interface. It is perfect for those who are in meditation makes only the first steps. Its main advantage – more effective use of data about your character. During registration you can select up to five senses from five different categories ranging from very happy to very sad. In turn, each of these categories, you can choose 35 different emotions. As a result, you will get a meditation session tailored to you.
For beginners, perfect package "Learn to meditate". It explains in accessible language what meditation is, why it is needed, what benefits it brings, and provides basic lessons.
In order to enjoy some unique classes this application, you need to buy premium access. The cost is $4.99. For the money you will get a session of meditation, which is a combination of breathing exercises, yoga or even acupressure (acupressure on certain areas of the body for treatment and prevention of diseases).
Comments
comments