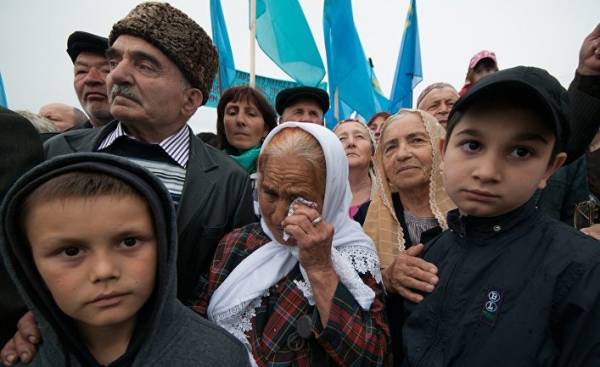 Another anniversary of joining the Peninsula of Crimea in structure of Russia the foreign Minister of Turkey once said that officially does not recognize the Peninsula as part of Russia.
In an official Memorandum to the Turkish Ministry of foreign Affairs, the text of which is given on the website of public institutions, reads as follows: "the Annexation of Crimea to Russia is an act of clear violation of all existing international legal norms, Turkey will continue to support the Turko-Tatar population of the Peninsula."
Turkish foreign Minister to the third anniversary of the annexation of the Ukrainian region — the Autonomous Republic of Crimea is part of Russia, also said: "Turkey does not officially recognize all the implications of this situation and will continue to act in the interests of Crimea's Tatars, native inhabitants of the Peninsula".
In an official statement the foreign Ministry of the Turkish Republic also States: "For the settlement of the Crimean problem, it is necessary to develop a mechanism that will look logical in this situation. Until that happens, Turkey strongly supports the territorial integrity and sovereignty of the Crimea, and closely followed the developments on the Peninsula."
Thus the statement of the Turkish foreign Ministry in connection with the anniversary of the annexation of Crimea clearly can be seen the desire to focus on the protection of the rights and interests of the Turkish-Tatar population of the Peninsula and however be emphasized that the main people that should be the fate of the Peninsula are the Crimean Tatars.
As noted in their reports the news Agency IRNA, for many centuries the Crimean Peninsula really was inhabited by Tatars. However, for control of the Peninsula have been fighting several major world powers. From the XV to the XVIII century the Crimean Peninsula of the Crimea was part of Ottoman Empire, however, in the XVIII century, Russia finally conquered the Peninsula.
In Soviet times, in particular during the Stalin era, the most part of Turko-Tatar population of the Peninsula had been resettled in other regions of the Soviet Union.
Three years ago the Autonomous Republic of Crimea were part of sovereign Ukraine. But after the political crisis and the aggravation of relations between Ukraine and Russia and a referendum on 16 March 2014 Crimea became part of the Russian Federation. However, many Western countries immediately announced the outcome of the referendum, at least, controversial.
Comments
comments