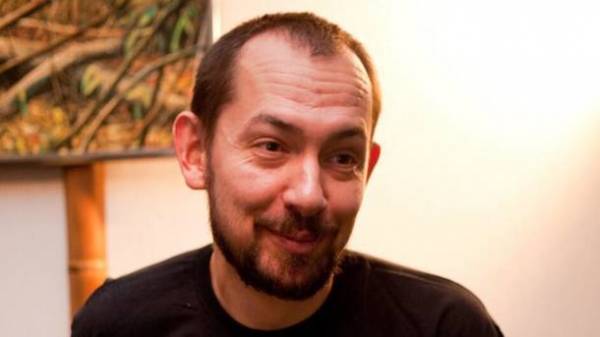 Journalist UNIAN Roman Tsimbalyuk told the details of his detention in Moscow, transfers TV channel "112 Ukraine".
"It's all right. At least as of this minute. Today, fulfilling our editorial mission, went to Moscow state University to record an interview with a graduate student Zachary (Zach by Sarapulova – ed.). This is the brave soul who posted on March 18, with one of the Windows of Moscow state University Ukrainian flag. It is in such an interesting way of trying to protest against the bad living conditions in the hostel. We found him, recorded with him a very interesting interview. … But when I asked him to show us the flag, which he hung, after this we were approached by a policeman, began to check the documents, began to say that we here are holding an unsanctioned rally, or shouted out some slogans. Accreditation of the foreign Ministry to them was not enough, there came a detective, who is also very much asked what we were doing," – said Tsymbalyuk.
He added: "eventually we were taken to the station. The reason is not explained, but said to perform our material, it can be done on the spot, and took, in fact, in the police station. There we spent three hours. After all the formalities we were allowed to go. Including Zahara our hero. We are now working".
According to the journalist, the Russian law enforcement authorities did not use force against detainees. "All right, no we never touched," – said Tsymbalyuk.
We will remind, on March 21, Moscow (Russian Federation) detained a Ukrainian journalist, correspondent of the UNIAN Roman Tsimbalyuk. As he said Tsymbalyuk, detained him after he recorded an interview with a graduate student of historical faculty of Moscow state University by Zachary Sarapulova 18 March, the day the annexation of the Crimea hung the flag of Ukraine.
Later, the Ukrainian Embassy in Russia has confirmed the detention in Moscow of journalist Tsimbalyuk.
Following this, information was received that Tsymbalyuk Moscow refused to give explanations to the police and also declares the groundlessness of his detention.
After some time the police released the detainee in Russia journalist Roman Tsimbalyuk.
Comments
comments