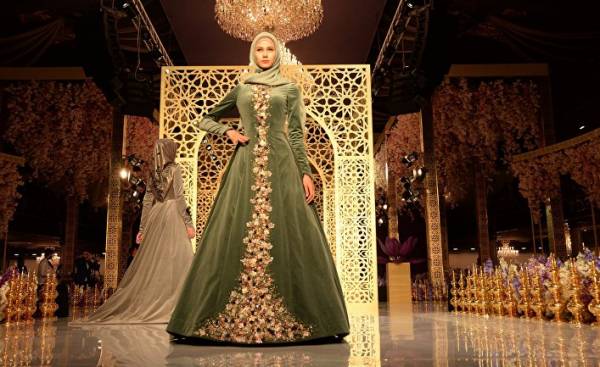 The daughter of the head of Chechnya, Ramzan Kadyrov Aishat presented a collection of designer clothes at a special show in Moscow (in the framework of the fashion week Mercedes-Benz Fashion Week Russia — approx. ed.). The earlier collection has been demonstrated in some Muslim countries, particularly in the United Arab Emirates (UAE).
In one of the palaces of Russian tsars in Moscow, models presented a collection of designer clothes Aishat Kadyrova, the daughter of the head of the Chechen Republic Ramzan Kadyrov. The show took place on Friday evening, March 17. This is the first demonstration 18-year-old Aishat. In the center of her attention designer hijabs.
The show was attended by famous Moscow designers of the fashion world, representatives of the Chechen elite, as well as guests from a number of middle Eastern countries, which are for her garments main market. Alena Sadulayeva, the press Secretary of the fashion house Aishat Kadyrova said that the clothes were already off to such remote corners as Dubai (UAE). She added that some of those present proposed to hold a show in Abu Dhabi (UAE) and Bahrain. Fashion house Aishat Kadyrova plans to open its stores in Moscow and St. Petersburg. And it was the fighters of Ramzan Kadyrov was previously the separatists, and then he became loyal to the Kremlin leader of Chechnya, severely overwhelming their opponents, violating human rights and denying all charges. Kadyrov is known that may appear in gold or in a normal tracksuit. Also known a picture of him with a lion. As for his wife, Medni, several years ago she created a fashion house "Firdaus", which is now headed by their daughter Aishat.
Comments
comments