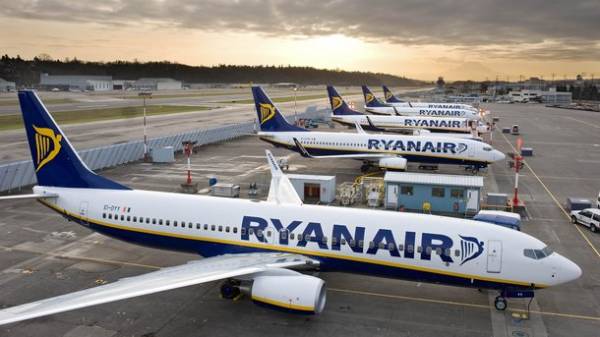 In Ukraine in 2016 has 19 domestic airlines. Over the years they have increased their passenger traffic by 31%. The largest of these MAU in 2016 got a passenger traffic growth of 25%. The arrival of the Ukrainian market Ryanair opens both risks and possible benefits for those already working in the country's airlines, experts say.
According to the Director of the Latvian consulting company Friendly Avia Support Alexander Lanetsky first airline in Ukraine deployed a price war to compete with the Irish low-cost airline, but they Deplete and it will be a wrong strategy.
"Ukrainian airlines will not be able to compete with such a giant as Ryanair, if will try to reduce the price of tickets. It's the same thing that to put a child on one ring with Klitschko. They will need to revise its policy", – said the Lanetsky website Today.
According to him, if Ryanair will cooperate with the MAU, as this was stated during a press conference commercial Director of the airline, David O'brien – this will be an opportunity for Ukrainian airlines. It is assumed that on the website of the low-cost airline will sell tickets of MAU. Moreover, Ukraine International airlines can benefit from the work of Ryanair in the country and become a Transporter of passengers from Belarus, Georgia, Kazakhstan, Moldova and other countries, which in Kiev or in Lviv will take the low-cost airline.
Announced network of Ryanair flights almost coincides with those areas where flying Ukrainian carriers. The crossing is only for London, Warsaw and Berlin. In the Netherlands, MAU is already flying to Amsterdam, and the airline offers Eindhoven, which is not so far away. This will create competition and reduce the cost of tickets.
"From the network of flights that were announced, potential competition is possible on the lines to London, Stockholm and Einthoven/Amsterdam, fly our airline. Ryanair announced flights to Eindhoven, Netherlands – a small country, Amsterdam is very close – just 125 miles or hour drive by car. MAU is just going to offer more tariffs at competitive prices. I don't see threats from the exit of Ryanair on the Ukrainian market.", – said the former Deputy Minister of infrastructure Alexander cava.
We will remind, Ukraine has become the 34th country in the Ryanair network flights. The company expects the flow of passengers in 510 thousand people a year, and until 2024 to increase it to 200 million
Comments
comments