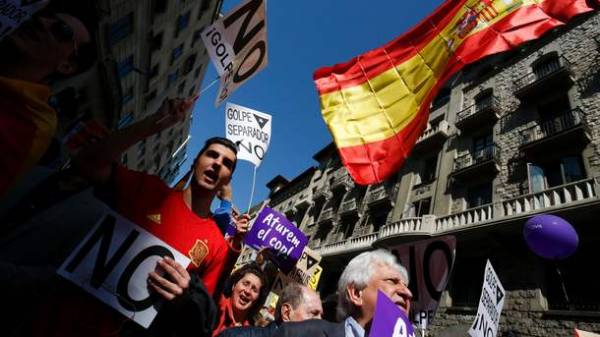 In Barcelona, several thousand people today took part in protests with the slogan "stop the separatist coup." This publication reports La Razon.
The action organized by the activists of the "Civil society of Catalonia", held under the slogan "For freedom, democracy and coexistence."
The route of the procession lay through the town centre to the area on which the building is located the Catalan Parliament.
According to the head of the "Civil society of Catalonia" Jose Domingo, the event was organized to resist separatist movements and to stop "institutional coup".
As reported, on February 14, Spain's constitutional court annulled the resolution of the regional Parliament of Catalonia, which included the possibility of holding a referendum on the independence of Catalonia.
The government of Catalonia, the northeastern region of Spain, with the support of a significant part of the population for many years committed to the Department. The governing coalition of Catalonia was planning no later than September 2017 to hold a referendum on independence for the region. The government of Spain claim that will not allow you to vote on the secession of Catalonia, a region that produces nearly a fifth of the country's GDP.
Comments
comments