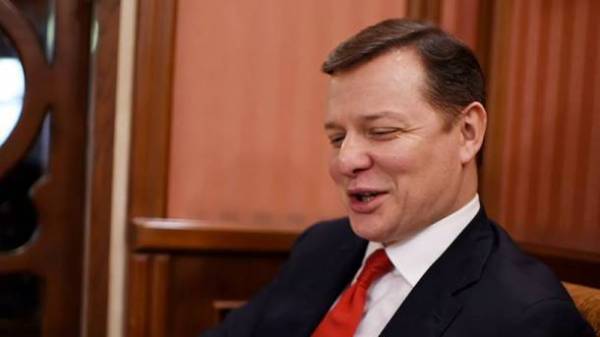 The leaders of the factions at a meeting with Chairman of the Verkhovna Rada Andrew Parubiy agreed to hold an investigation into today's events in Parliament. This was announced by the Chairman of the Radical party, Oleg Lyashko in comments to reporters.
"I ended the meeting with the Chairman of BP. What was the outcome? First, to investigate those unprecedented events, which had place in Parliament," he said.
Lyashko does not exclude that maybe tonight will be another meeting of leaders of fractions with the Chairman of BP. He recalled that the faction of the Radical faction insists on holding tomorrow's closed session of Parliament with the participation of the President of Ukraine.
"We believe that the situation, which takes place today in the country, and today's events in Parliament this is evidenced, leads to delegitimization bodies of state power of Ukraine, the loss of Ukraine's subjectivity in both domestic and international arena," – said Lyashko.
We will remind, people's front and the PPB intend to send Oksana Syroid resign from the post of Vice-speaker of Parliament. So, the people's Deputy from "popular front" Andrew teteruk said, closing early session of Parliament Syroid covers illegal activities of some MPs, in particular, Volodymyr parasiuk, at a checkpoint in Slavyansk.
As is known, the Verkhovna Rada of Ukraine was unable to work today. After a half-hour break announced earlier, the meeting began with a presentation of the people's Deputy from "popular front" Yuri Birch.
In Parliament he strongly criticized one of the deputies, who the night before got in a fight in the area of Slavyansk and Kramatorsk, beating police officers.
After the speech, Birch, Vice-speaker of the Verkhovna Rada Oksana Syroid suddenly announced morning session of the Parliament.
Their actions Oksana Syroid said that considered the arrival of the military in the Parliament hall and seizure, therefore, decided to close the morning session of Parliament.
Comments
comments