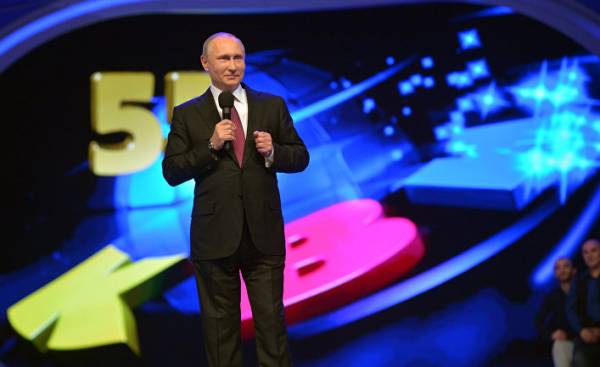 Center for strategic communication NATO Stratcom in the new study, "Stratcom laughs. In search of an analytical framework" called the Russian Comedy shows KVN "tool of political strategic communication."
"KVN can be described as a commercial product and business model. This business is made possible and grows because the owner of the brand KVN special relationship with the Kremlin", — stated in the report.
According to experts, thanks to the "drink machine" the Kremlin "have access to specific, strategic audience, ready to serve the regime."
"Further research must be focused on the perception of various audiences KVN, to determine the effectiveness of this type of strategic political communication", — concluded the authors of the report.
A study conducted for the Ministry of defence of Latvia, based on the analysis of the performances of the team from Moscow "Parapaparam", representing the University at the festival "wailing kivin" in 2014 and 2015.
In addition, the report shows that its authors looked at the issues of the program "Spotlight periskhilton", Yesterday Live "Evening Urgant" and "Maxim Maxim" for 2008-2016. They found they shared: the relationship of these programs with KVN.
The report's authors came to the conclusion that the external world in the Russian Comedy shows is seen as hostile and in respect of Western leaders heard jokes in which there is criminal slang. As an example, refer to the release Yesterday Live with jokes about Silvio Berlusconi. Most often derided Barack Obama, Hillary Clinton, Francois Hollande, Nicolas Sarkozy, George Bush and Angela Merkel. For example, Clinton in the same Yesterday Live in 2012 was portrayed as a deceitful politician who doesn't understand geography and considering the plans of American aggression.
The report argues that the value of the "Evening Urgant" that with the help of this transmission the authors of allegedly trying to "influence the culture of people" who gather around the television in the evening. In this case, transmission is made in such a way that various jokes affect different groups of the population.
Another purpose of the transmission is the confirmation of the rule of Vladimir Putin, the authors of the report. Often the head of state is compared with the leaders of other countries and shows how effective a politician that solves various issues. Thus it is shown that "democracy in the West is false, the leaders of the countries of Eastern Europe are naive or stupid, and Russia is a country of values."
Comments
comments