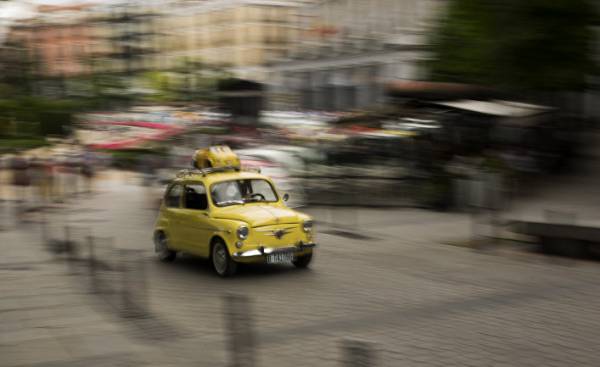 Nicholas has invented sophisticated mechanisms already at the age of six, for example, a forklift. Now he hastily develops and designs a new device on the balcony of his apartment in the district of Vallecas (a neighborhood in Madrid, where traditionally settled the poorest of the poor and immigrants — approx. translator) to get the opportunity to stay in Spain. About two months ago, the Directorate for asylum seekers refused his application for international protection.
"You know that Einstein was also a refugee?", — I asked him. Nicholas, drily smiling, shakes her head. It is difficult to understand, is he interested in this information or, on the contrary, are completely indifferent. At least the expression on his face and large, bright, deep-set eyes nothing to say.
Realizing this, the Ukrainian is limited to a nod of the head. He warned that doesn't like to talk. Perhaps this is a consequence of his natural modesty or indifference. Only he knows it. In any case, the question was asked casually.
Nicholas and Einstein connects two common factors. Both fled the country where they were born, fearing prosecution. They wanted to change the lives of others through their inventions and discoveries.
But Nicholas, in contrast to the German physicist, decided to do without the theory. He is self — taught, the author of inventions that have appeared by chance. It cuts, collects and punch holes in parts, found in garbage cans. And it all happens on a small balcony at home in the Madrid district of Vallecas. Sitting among a heap of wires, tools and parts from old computers, Nicholas is now working on his latest discovery. We are talking about the tank, which, according to the draft, should be the hydrogen car with hydrogen engine. According to Nicholas, his invention will reduce harmful emissions by 60% and fuel consumption by 30%. In addition, is still cleaning the engine. Our Einstein says all these figures with the air of a connoisseur, although he had no engineering or technical education.
"I like to invent and reinvent. When there is any problem, I think over it until then, until I find a solution. We must try, try and try, — Nikolay speaks bad Spanish. — And now I have a lot of time to think."
By "now" he meant the last two years in Spain with his wife and sons Nicky and Andrew, one of which is two years and the other three. If Einstein fled from Nazi Germany because of his Jewish descent, Nicholas went to Ukraine because he knew too much.
Flight
A year before departure, a self-taught inventor worked as a driver at a Deputy of the Verkhovna Rada of Ukraine. According to Nikolay, for eight months he was his "chief assistant". He asks not to mention the name of his former boss.
As a driver he worked 24 hours a day and carried a policy for different events. During these trips, Nicholas listened to all of his conversations and knew the schedule of the Deputy, who was on the secret meeting. "I wasn't even allowed to use a mobile phone to avoid being detected by GPS," he says.
It was a good job. Nicholas earned 800 euros, which did not have to pay taxes. According to Nicholas, the drivers of members of Parliament often work without a contract. But on 21 November 2013, everything changed. That night on Independence square in Kiev, about which most Europeans had never heard of before, began the months-long protest against the Pro-Russian Ukrainian President Viktor Yanukovych.
These events, which later received the name "Euromaidan", ended with the overthrow of the government and marked the beginning of the split of the country. On the one hand are the Pro-Russian forces with other Pro-European. The result is an undeclared war being waged ever since, killing at least 9 700 people, including about two thousand civilians. Most of them were killed in the South-East of the country where daily clashes between government forces and militias supported by Russia.
The Pro-Russian chief Nicholas quickly realized what was happening. A few months after the start of the protests on the Maidan people, the name which the inventor does not want to mention, had disappeared. He is on the international wanted list in June 2014 on charges of aiding the separatists and corruption, a case which was instituted against some companies owned by him.
After fleeing the policy address Nicholas began to receive threats. Once he was in the house came three people who were looking for some information and beat him. "It was police in civil clothes", — says Nikolay, choosing his words carefully. But the decision to leave the country he adopted later, when another group of people approached on the street with threats to his wife Eugenia, who was seven months pregnant.
The crucial invention
"We instantly made a decision. The fastest you could go to Spain. The next flight, which we found took us to Barcelona," says Eugene. From there we moved to Madrid and filed an application for asylum with the help of NGOs Accem.
It took several months to find housing, and even more for the job search. Now 32-year-old Eugene gives English lessons in two schools and advertises some drinks at the airport. A 36-year-old Nicholas beats on the balcony above his decisive invention.
He says he's a natural. When he was six years old, he invented a method of construction of the forklift to help my family to store food in the winter.
In 2012 he was one step away from glory, inventing a lighting system in the rear of the car with faster inclusion of stop signals. He even introduced his invention to the BMW, but was refused because he did not have a patent," says Nicholas.
For six months he is trying to come up with a way to generate hydrogen for a car engine. This is his fifth design. Nicholas uses only materials used: old water pump, the housing of the filter, some stainless steel sheets. The test he conducts on his own car: used BMW, which has more than 15 years.
Hydrogen generator — his last hope, especially given the fact that about two months ago, the Directorate for asylum seekers refused his request for international protection. "We were not informed of the reasons for the refusal. Now we need to wait for the official notification, we were told that we will get to the end of September, and then we get deported," says Eugene sheepishly.
Ukraine today takes the third place by the number of applications for asylum in Spain after Venezuela and Syria. This year there were more than 2500 applications. But, according to information Amnesty International for the year 2016, the Spanish authorities delay consideration of such motions in the hope that the situation in these countries improves. We are talking about the so-called rules of common prudence and discretion.
In October last year, the Spanish government has revised the rules of procedure for considering applications for asylum submitted by citizens of Ukraine, but, according to the NGO Accem, the majority of applicants continue to bounce. USA has granted asylum to Einstein, but Spain denies this Nicholas.
"To come back unsafe. We will not be back" — breaks the silence Ukrainian inventor. With the help of Eugenia in translation he explains that they are still in danger that they will be looking for, what he fears above all for his family. Starting, finally, to say, Nicholas reveals his plans: "I want to convert my projects to the documents."
Nicholas tries to explain that he wants to give Spain their ideas, their inventions in exchange for refugee status. He wants to demonstrate that his contribution is important for our country. "If my story and my ideas will be famous, Spain are more likely to want to take us," he says with the naivete of the newcomer.
According to experts of scientific research Institute of motor transport (INSIA), with whom he consulted, developed by Nikolai hydrogen generator can help, but the right plans, documents, confirming the safety of the invention and also a lot of money (maybe you find a good sponsor) to conduct serious research — more serious than experiments on the balcony of the house in the district of Vallecas. But even if we manage to prepare appropriate documentation and find money, we can not guarantee that the invention of Nicholas will help him to protect the family. Even in this case, we can't be sure 100% that Spain will not meet their refusal.
It is trying to tell Nicholas the staff of the NGO Accem, which now has to work hard to help his family avoid deportation. And while Nicholas is silent, smiles dryly and shakes his head.
Comments
comments