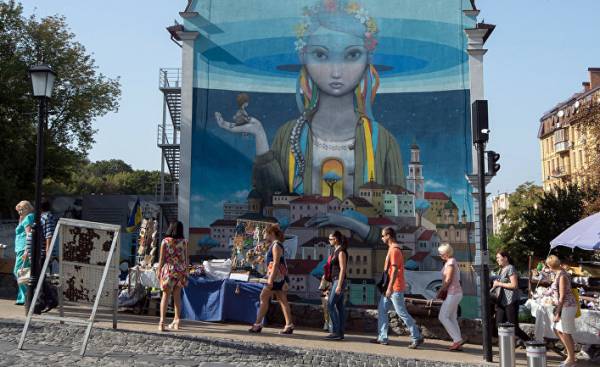 The Federal government in a hitherto unknown form warns against the failure of the Minsk agreements and sustainable split of Ukraine. On Wednesday, Martin Schaefer (Martin Schäfer), press Secretary of the Minister of foreign Affairs Sigmar Gabriel (Sigmar Gabriel), said that "the continuing trend towards the split in Ukraine are of serious concern to the government." Obviously, behind these words are hidden fears Berlin about the fact that the confrontation in Eastern Ukraine may turn into a so-called frozen conflict — as well as similar conflicts in Moldova, Georgia, Armenia/Azerbaijan. In all three cases, all attempts at settlement made over the years have failed; in all three cases, Russia plays a major role, because she supports anyone who is seeking office; and in all three cases, efforts at a peaceful settlement have stalled because the parties to the conflict have adapted to the situation.
"Sovereign statehood" of Ukraine will never be the subject of negotiations, said Martin Schaefer
Schaefer criticized all participants in the events in Ukraine. He stressed that the more specific nature of the gain created by the separatists — with the support of the Moscow structure through which they can secede from Ukraine. According to him, they introduce the Russian ruble as base currency and create their own identity documents to areas in Lugansk and Donetsk. Schaefer also noted that changing the designation of the contact line, i.e. the front — it becomes a kind of border. All this clearly contradicts the prisoners in Minsk agreements, said Schaefer. There, by the way, he said, all parties expressed strong support for the territorial integrity of Ukraine — including the return of all the territories under the full control of Ukraine. Press Secretary Gabriel stressed that "sovereign statehood" of Ukraine never became the subject of negotiations, so it will remain in the future.
Schaefer clearly expressed on the behavior of Kiev. So, according to him, the Ukrainian side has taken too little action against the Ukrainian nationalists, who currently have organized the blockade of the numerous supply of goods from the separatist areas of the Ukraine. He noted that it causes damage not only to separatists, but many people in Ukraine, because the blockade of coal supplies threatened the supply of the population. Instead, to counteract this, the Ukrainian Council of national security and defense decided to ban the trade, said the spokesman. "This leads to increased gap", said Schaefer.
Last week the Minister of foreign Affairs Gabriel has urged Kiev and Moscow to abide by the Minsk agreement. Obviously, his anxiety since then has only increased. However, this may be due to the fact that other countries, such as Poland and the UK, have less confidence in the agreements reached in Minsk with the help of Germany and France.
Comments
comments