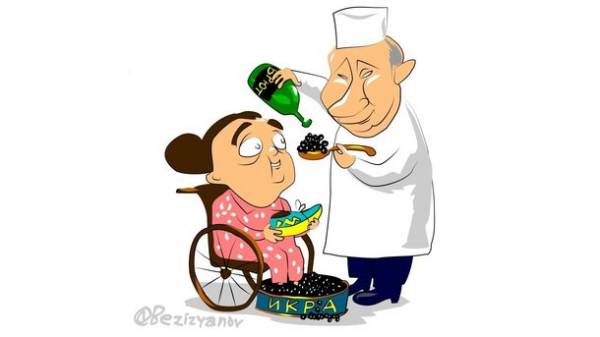 In social networks ridiculed the statement of the President of Russia Vladimir Putin, Prime Minister Dmitry Medvedev "not saved" and he got sick with the flu.
Putin noted that the flu epidemic in Russia has not fully receded that experience for yourself and the Prime Minister of the country. "The epidemic situation we have is on the wane, however, the situation is still serious. Here, Dmitry Anatolyevich not saved," – said Putin.
In turn, Russian opposition leader Alexei Navalny wrote that advises the Prime Minister to drink "Arbidol" and "Kagocel", which his government is forcing you to buy public hospitals. Will help."
Medvedev was ill with the flu. Well, let him drink kagocel Arbidol and that his government is forcing you to buy public hospitals. Help.
— Alexey Navalny (@navalny) 14 Mar 2017
Note, both of these drugs are marketed by the Russian government as a means to fight the flu, including its severe forms, however, had at this clinically confirmed evidence of effectiveness.
Earlier Navalny published a "corruption scheme" Dmitry Medvedev: yachts, mansions and vineyards.
Nicho Dimon, will get you down, I will go to Eurovision… pic.twitter.com/iE8fP4vEWq
— Andrey Zakirzyanov (@Bezizyanov) 14 Mar 2017
especially for Dmitry Medvedev pic.twitter.com/XYfWAduhUw
— enemies over the hill (@Lndcalling) 14 Mar 2017
Expected statements Poklonskaya that Medvedev zamirotochila nose!
— Peskov mustache (@Sandy_mustache) 14 Mar 2017
About his illness, Medvedev has learned from the message of Interfax: pic.twitter.com/dfltQHlEF5
— Foreign Rossi (@Fake_MIDRF) 14 Mar 2017
Please correct if wrong: flu Medvedev is the first official confirmed the illness of one member of the tandem for 10 years.
Very strange.
— Sarcastic news (@_U_R_I_c) 14 Mar 2017
Medvedev was ill a special form of the flu. His complication may be the resignation.
— aunt rose (@ANAKOYHER) 14 Mar 2017
Dmitry Medvedev caught a cold and went to breathe over the potatoes in your Agrocomplex to the land of their ancestors…
— Joseph Levinson (@Osya_Levinson) 14 Mar 2017
And music from "Seventeen moments of spring".. pic.twitter.com/KAPrE49NOY
The thought of Perzident (@VVP2_0) 14 Mar 2017
The Pope also recently sick with the flu. Couldn't go to work in the town hall. He was treated in Italy. Returned fit, bought vineyards
The son of the Deputy Governor (@zamgubernatora) 14 Mar 2017
Bulk should be judged according to the article: bringing a person to the flu.
— aunt rose (@ANAKOYHER) 14 Mar 2017
Medvedev sick with the flu. Something scary for him. Hang in there, Neiman. Drink lots of tea, but neat. Money on medicines available?
— Vladimir Mats (@1964Matov) 14 Mar 2017
It seems that Medvedev's Twitter has not yet been buried even once
— vodka and Meldonium (@treugolny_hui) 14 Mar 2017
(Voice Levitan)
The message of the Soviet information Bureau: Today at 15 h 37 min, Dmitry Medvedev, sneezed!
— Oleg (@dolg132004) 14 Mar 2017
Bulk angry, violent man. Hounded the Prime Minister, the one with the flu at the estate came down*(
— Ilya Barabanov (@barabanch) 14 Mar 2017
Comments
comments