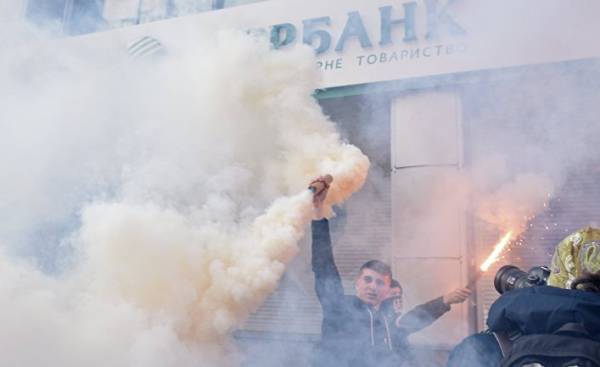 Don't forget that Sberbank of Russia is now assets of about 50 billion hryvnia. What will happen with the Ukrainian system, if they were taken out?
A new wave of aggression by the Ukrainians against Sberbank of Russia may lead to irreversible consequences. Especially when you consider that the asset now he has about 50 billion hryvnia, which is significant money in the Ukrainian economy. Don't forget the deposits, which were more than 10 billion hryvnia.
So if he stops we have to operate, it will mean the crisis of the financial system. Will come about the same situation, which was in 2014. This can be followed by hryvnia devaluation and financial instability. Moreover, without work there are hundreds, thousands of Bank employees. So the blockade of the banks is in the path anywhere.
What is it the participants of the blockade? In this case, it is indicative of the actions that are performed with the aim to exert pressure on Russia. Don't forget that she's always been sensitive to banking issues. On the other hand, this is a PR of Azov and the people's Deputy Andrey Biletsky, which is designed to enhance the radical electorate. And this is a demonstration of anarchy, the Makhnovshchina as the blockade are acting outside the legal field. Their actions are illegal. Any other would state it was stopped.
In Ukraine is a consequence of the lack of government policy in this area.
In order to remove the thorny questions concerning the annexation of Crimea, the conflict in the East, functioning of banks, they should be submitted to a referendum. Then to public opinion. And the results only be used for legitimate and legal purposes. As for the groups of radicals who oppose the legitimate results, their actions will have the power to suppress. After all, the state is entitled to it. Those who are trying to steal the state initiative, just destroy it.
It is the destruction of the state and directed the actions of the blockade, zabetonirovana the Central office of Sberbank of Russia.
Ruslan Bortnik — Director of the Ukrainian Institute of policy analysis and management.
Comments
comments