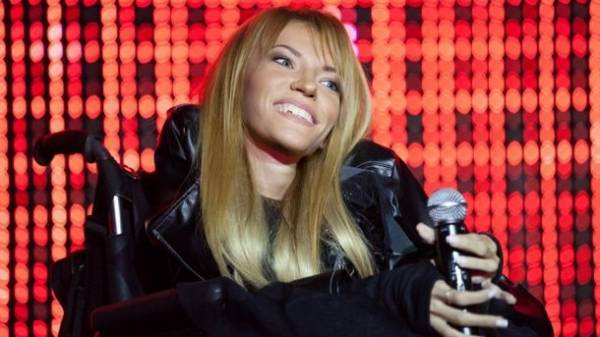 Russia declared its representative in the "Eurovision", which will be held this year in Ukraine, and thereby added stress to the preparations for the song contest. Russian state media has announced that the singer with special needs Julia Samoilov will perform in Kyiv with the song Flame is Burning, demonstrating that "neither age nor physical limitations can't keep people who want to achieve something". However, the 27-year-old singer was immediately at a disadvantage because it was made by Russian troops in annexed Crimea in 2015. This was reported in The Guardian, explaining that Kiev must now decide whether to allow Samoilova cross the Ukrainian border, "given by the Ukrainian law and national security interests," according to ZN.ua.
Executive Director of Crimean Tatar TV ATR, muzhdabaev believes that Moscow made the "cynical and immoral," Samoilov sending to Eurovision. "They used this girl as a human bomb for the propaganda of the hybrid war against Ukraine", – he said.
In Moscow claim that "I don't want to politicize" Eurovision song contest. But at the same time, the press Secretary of the President of Russia Dmitry Peskov said that he does not consider provocative singer's participation, which violated Ukrainian law and acted in the annexed Crimea.
She Samoilov said that since childhood dreamed of performing at "Eurovision". According to her, she's not thinking about the problems with crossing of the Ukrainian border. "My goal is to sing well to prepare," she said.
The newspaper reminds that the career of the singer Yulia Samoylova started with victories in several singing contests in Russia. In 2014 she sang at the opening ceremony of the Paralympics in Sochi. But the performance was overshadowed by the Russian occupation of Crimea and invasion of Eastern Ukraine.
And in SBU noted that the decision on the entry Samoilova in Ukraine will be taken soon.
The results of the selection of a contestant from Russia on "the Eurovision 2017" became known on March 12. It will be represented by Yulia Samoilova singer she writes music and lyrics.
Girl since childhood, wheelchair-bound and has a first group of disability. She is the winner of various music competitions and festivals in Russia and abroad. Was a member of the opening ceremony of the Winter Paralympic games 2014 in Sochi.
Comments
comments