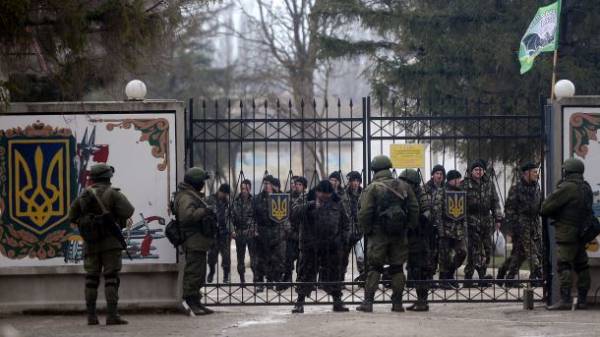 The country's leadership in 2014 did not clash with the Russian military in the Crimea, so as not to provoke an even greater threat to Ukraine and not to lose large territories. This was stated in an interview with TSN the leader of "Batkivshchyna" Yulia Tymoshenko.
According to her, the opposition of the Ukrainian military Russia could provoke even more problems than the annexation of the Peninsula.
"At that time, Ukraine had no army, and capabilities to protect (Crimea – ed.) was not. At the time of the aggression of the army was not. And this was at the meeting said the Minister of defense, the Chairman of the SBU, it was stated by all the experts and all political forces. The Prime Minister said. And then we warned all the friends of Ukraine – the USA, EU: if you provoke the Russian army could reach Kiev. Everything was planned," – says Tymoshenko.
She is convinced that if Ukraine resisted, Russia during the invasion of the Crimea, the number of victims would be estimated in tens of thousands.
"We couldn't risk it. By the time it was done right. But if someone thought something else – they have had every opportunity to do it," – said the leader of "Batkivshchyna".
Crimea was illegally annexed by Russia in March 2014 after the "referendum" is not recognized neither Ukraine nor the world community. Including the "Crimean referendum" does not recognize and the United Nations.
The Verkhovna Rada of Ukraine officially declared on 20 February 2014, the beginning of the temporary occupation of Crimea and Sevastopol by Russia. October 7, 2015 President of Ukraine Petro Poroshenko signed the law. International organizations have recognized the occupation and annexation of Crimea as illegal and have condemned Russia's actions. Western countries have imposed a series of economic sanctions.
After establishing control over Crimea by the Russian occupation authorities on the Peninsula has worsened the situation with human rights, have concluded that not only the Ukrainian ombudsmen, but also international organizations, including PACE.
Comments
comments