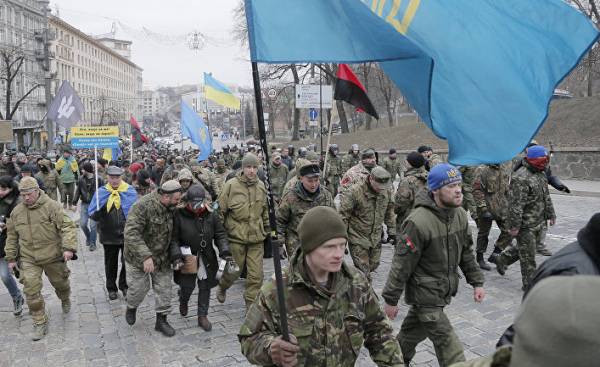 March 11, dozens of activists of the nationalist movement took to the streets of the Ukrainian capital of Kiev to demand the government close all existing on the territory of the Russian credit institutions. Demonstrators stormed the offices of Sberbank, Russia's main Bank, under the control of the Kremlin, covering his blinds stickers and labels. They can read the eloquent words: "This is a Bank in the country-an aggressor, and it will be closed!", "Urgently take away their money!"
"Down with Russian banks" was written in red paint on the shutters of another branch.
Similar protests took place in the Ukrainian capital a month ago. But now, after Sberbank a few days ago announced that it is ready to serve citizens with passports of the breakaway DNI and LC, the stress level grew even more. Indeed, 18 February the President of Russia Vladimir Putin signed a decree ordering the authorities of the Russian Federation to recognize passports, identity cards, car number plates and other documents issued by the self-proclaimed republics DNR and LC. After this decision of the Russian President, was dictated by the Kremlin, on "humanitarian grounds", the press service of Sberbank on Tuesday, March 7, announced the start of service and the "guarantees services to citizens holding passports of the Donetsk and Lugansk regions".
Obviously, this decision has caused indignation in the Ukrainian establishment who believe Pro-Russian rebels in the Donbass "terrorists".The Ukrainian Central Bank decided to impose sanctions against Sberbank. "If this information is confirmed, — said the Central Bank of Ukraine, referring to the decision of the savings Bank's readiness to offer its services to the citizens of Donetsk and Luhansk, the Central Bank jointly with the Council of national security and defense will raise the issue of imposing sanctions against Ukrainian branch of Sberbank of Russia".
But Reuters emphasizes that the Central Bank did not specify what kind of sanctions or restrictions will be imposed on the savings Bank. Meanwhile, the Minister of internal Affairs of Ukraine Arsen Avakov in words declared war on the Russian credit organizations, demanding its expulsion from the Ukrainian market.
"Sberbank of Russia must cease its activities in Ukraine! Let them enjoy their "financial Paradise" for the laws of self-proclaimed DND and LNR", — Avakov wrote in a provocative message on his page in Facebook.
In Ukraine today there are five branches of Russian banks. Of them "UniCredit Bank" and "Gazprombank" have expressed willingness to serve clients on passports issued by the Pro-Russian separatist authorities in the Donbass.
Following the recent escalation of violence along the line of contact between Ukrainian military and Pro-Russian rebels and Ukrainian organized opposition parliamentarians ceiling railroads for a few weeks blocked the supply of coal from the mines of the Donbass in other regions of Ukraine, the tension between Kiev and the DNI and the LC remains at a high level. The war continues on all fronts.
Comments
comments