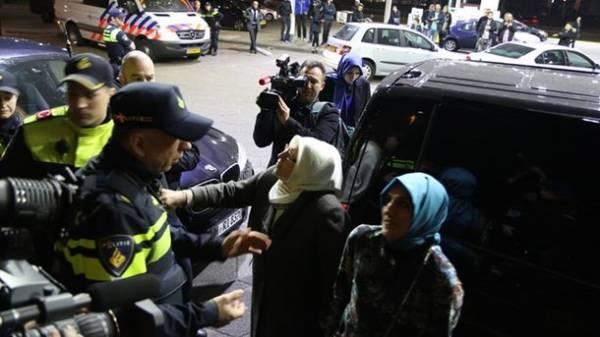 Near the building of the Turkish Consulate in Rotterdam brought together about 500 people from this country protesting against the ban on holding a rally with participation of members of the Turkish government. This is with reference to the Dutch TV channel RTV reports "Gordon".
Have the demonstrators were Turkish flags. They chanted slogans in Turkish language.
People were waiting for the arrival to the building of the diplomatic mission of the Minister of family and social policy of Turkey Fatma Betul to SAI Kai. However, her car was blocked by the police.
Kaya wrote on Twitter that, not passing it to the Consulate, the authorities of the Netherlands in violation of international laws and diplomatic conventions.
Netherlands is violating all international laws, conventions and human rights by not letting me enter Turkish Consulate in Rotterdam
— Dr. Sayan Betul Kaya (@drbetulsayan) 11 Mar 2017
Kai was on a visit in Germany. After the Dutch authorities banned the foreign Minister of Turkey Mevlut Cavusoglu to fly to Rotterdam to participate in the rally at the Consulate, the Minister of family and social policy went to the Netherlands by road.
16 April in Turkey will hold a referendum on expanding the powers of the President. Cavusoglu was going to encourage Turkish citizens living in Western Europe, to support this government initiative.
Comments
comments