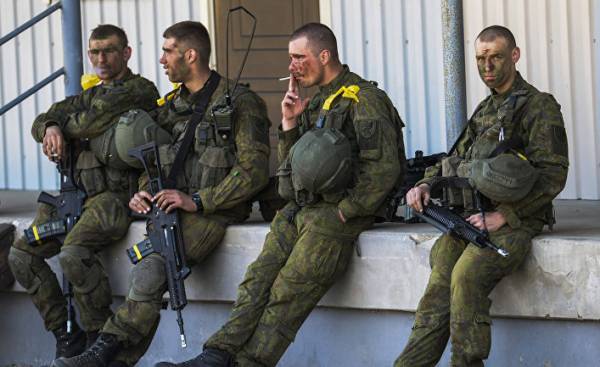 Estonia is not afraid of Russia and better than ever, ready to defend. That's the message translates Riho Terras (Riho Terras), commander of the Estonian defense Forces, which in April will make the allied troops. "Our goal is to get Putin to believe in NATO," he says.
Dagens Nyheter met with General Riho by Terracom in the Estonian Embassy in Stockholm. In Sweden he spoke with defense Minister Peter Hultqvist (Peter Hultqvist). Together with the Supreme commander Michael Budina (Micael Bydén) General Terraces on Friday called for including Gotland, which is Sweden again began to militarize in the past year.
"Gotland is a region of special strategic importance for the whole Baltic. We had the opportunity to drive a tank, to see the aircraft "Gripen" in combat readiness and to talk with local authorities about what they think about the return of military and General defense. I like to drive a tank around Gotland, it is very similar to our Saaremaa" — said Riho Terras.
Saaremaa, Swedish Esel', is the biggest island of Estonia. The militias will be there to participate in large-scale Swedish exercises Aurora 17, which will be held in Gotland in September. The countries have many points of interaction. Both see the growing threat from Putin's Russia.
"Western media often claim that the peoples of Estonia, Latvia and Lithuania is afraid of Russia. No, we are not afraid. Now as never before we are well prepared to defend their country. Our country in a few hours not to crush. At this point," says the General of the Terraces.
He was the commander of the armed forces for five years, and most recently, his appointment was extended for another two years.
Estonia is one of five NATO countries that managed to achieve the required 2% of GDP, which the country needs to provide for the defense. This year the figure will reach 2.17 per cent (Sweden, which is not part of NATO, allocates 1 % — less than all of the Baltic countries).
On the question of whether or not the General Terraces that Russia plans to attack Estonia, he answered:
"I don't know. But I believe in NATO. And our main task is to ensure that Putin, too, believe in NATO."
Estonia joined the Alliance in 2004. Then the voltage was small, and NATO in the first years there was no plan to protect the Baltic States. But Russia's annexation of Crimea and war in Ukraine led to the fact that the NATO summit in the summer in Warsaw adopted a decision on strengthening the protection in the East.
Accordingly, on 7 April, the battalion of the 1.2 thousand British and French military in full combat readiness will be in Estonia. In just the spring of NATO to strengthen the three Baltic countries of the allied forces in 3.6 thousand people with a thousand combat vehicles.
"This does not mean that the British will come to defend Estonia. Just 28 allied countries decided to reinforce the Eastern front of NATO, where are Estonia, Lithuania and Latvia. It means a lot to deter. Specifically, Estonia is host to two nuclear powers — Britain and France".
In the Swedish debate it is sometimes suggested that NATO is hostile and is trying to surround Russia.
"NATO has never been aggressive organization. But I saw a Russian video where it was stated that Estonia fulfills the attack on Moscow. They showed photographs of Estonians in our forests and compared them with a forest in Moscow to say: "they train in the same type". This is propaganda", — said the General of the Terraces.
"If we compare military exercises, the Russian maneuvers "West-2013″ was attended by more than 100 thousand soldiers, while NATO conducted exercises Steadfast Jazz, involved only seven thousand soldiers," continues Riho Terras and moves on to another topic:
"If someone thinks that we provoked them, I believe the opposite to be true: we would provoke Russia if I didn't do anything. To leave a vacuum in the Crimea in Ukraine — was provocative enough to make the first move. So let's not provoke Russia. If there are voids, we would prefer to fill their own security measures, it is now successfully doing."
Facts. Estonia
Population: 1.3 million.
Defense spending in 2016: 454 million Euro to 2.16 % of GDP.
Armed forces: military 5750 and 30 thousand reservists.
Army: one team, four battalion, 158 armored vehicles, 376 artillery, man-portable anti-tank and anti-aircraft guns.
Fleet: six vehicles.
BBC transport aircraft and transport helicopters.
Border troops: 22 ship, plane and helicopter.
Source: NATO, IISS The Military Balance in 2016.
Comments
comments