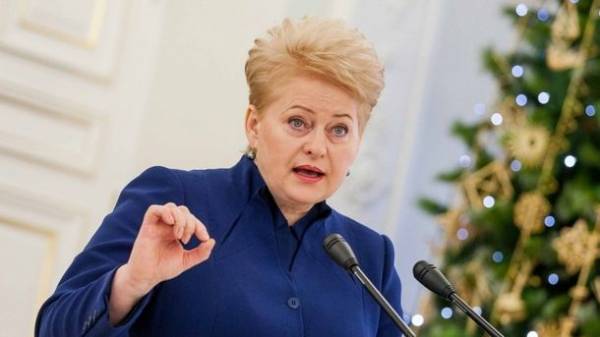 Lithuania regularly feels the rattle of the Russian weapons on its borders, and Russia itself is a threat to the entire region. About this on air of the radio station Znad Wilii, said the President of Lithuania Dalia Grybauskaite, reports TASS.
In her opinion, the threat of Russian aggression threatens not only Ukraine, but also Belarus.
"The geopolitical situation has become more complex and aggressive, less reliable. We are seeing quite aggressive and threatening Russia's activity in Ukraine, in Kaliningrad region and in Belarus. Next to Lithuania, we see and hear sabre-rattling ", said Grybauskaite.
Thus, according to the President of Lithuania, you need to think about increasing defense spending.
"Formation of a national rapid reaction force, restored the call to military service, the modernization of the armed forces," – said Grybauskaite.
Earlier , the Russian foreign Ministry called Romania the main threat of Russia in Europe because of the emergence on its territory of elements of U.S. missile defense.
The faction of the party Merkel said that the European Union needs to think of a more effective defense strategy because of Russian aggression threatens the entire Europe.
In turn, in Belarus, said that the joint exercises "West-2017" and the presence of Russian troops on its territory does not threaten the sovereignty of Belarus and the countries of the West.
Comments
comments