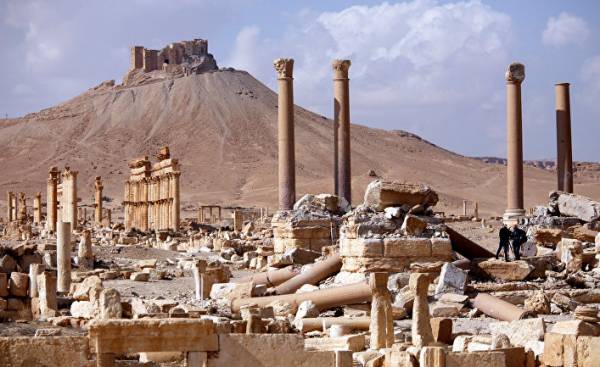 Latest news from Russia, the strongest military power in Syria, shows that the warring parties in Syria preparing for war is coming to an end. Russia issued a formal appeal to the international community to Finance the reconstruction of the country.
"We need tens of billions," — said the Deputy Minister of foreign Affairs of Russia Mikhail Bogdanov in Moscow.
Russia, Turkey and Iran are currently trying to agree on a political solution to the conflict. President Recep Tayyip Erdogan (Recep Tayyip Erdogan) in Ankara no longer requires the displacement of President Bashar al-Assad (Bashar Assad) in Damascus. Thus, the main foreign players in Syria can come close to an agreement in a conflict that cost the lives of half a million people and forced several million to become refugees.
"We come out of that phase of the war, when all parties sought to achieve a convincing victory, and included in the second phase, where the regime and the major factions of the resistance want to sign a contract," writes Professor Dominique Tierny (Dominic Tierney) in the publication The Atlantic.
Talks about what happens after the war has already begun. Turkey demands that all foreign troops were withdrawn after the end of fighting. Russia wants to maintain its strong foothold in the Eastern Mediterranean. Saudi Arabia seeks to ensure that Iran and the Lebanese militant group Hezbollah has not established its control over the territory, which is displaced by ISIS (an organization banned in Russia). Israel is trying to persuade Russia to limit the influence of its arch-enemy Iran.
Skepticism
Syrian refugees find it hard to believe that all ends. The impending decision means also the victory of the regime.
"The world means only that ended the fighting. Ethnic and religious tensions remain and are likely to worsen," says Mohammad Ghazavi (Mohammad Gazawi), a Syrian from Damascus, whose life Dagsavisen been following since the civil war and up to the time when he settled in Hanover as a refugee.
"I want to go home, but will be able to go there, but if you see that the country is no longer a threat," he says in an interview with Dagsavisen.
A refugee of the dial Brisle (Diala Brisly) lives in Pelican in the South of France. At home it is known as an artist. During the war she sent own comics children at home in the hope that they will remember what compassion is. She is currently working on a comic book where children climb to the clouds, but not on the balloon and on the books.
"I know it's useful, I can see it in the children's reactions. But I also know that this is only a drop in the ocean. Syrian children hardly get any education. This means that we are going towards a terrible future," said he told Dagsavisen.
No faith in the decision
Her comic is called "Zaiton and Zitona" and tells about a boy and a girl, thousands of children will no doubt read about them at home. Bresli also does not believe that comes peace.
"The situation in Syria controlled by Russian-enough to understand that the world is not," she says.
Professor Moshe Maoz (Maoz Moshe), a leading expert on Syria, Israel fears that the conflict will continue for several years.
"The decision, which will be discussed presently, does not cover major Islamist groups, thus, the conflict does not end. Bashar al-Assad controls currently 50% of Syria's territory and about 70% of the population. It will slowly but steadily try to win the rest. And then the question is: what will the Kurds in the East. They want at least autonomy. Assad and his Alawite sect is a kind of trap. They believe that they have no choice but to continue to rule, otherwise others, in their opinion, will kill them. So they will continue to kill," says Moshe Maoz.
Error
Maoz ten years studying Syrian society, but acknowledges that could never imagine such a war going on now.
"I wrote article where described how Hafez al-Assad (Hafez Assad), the father of Bashar, has managed to create a Syrian identity, despite ethnic and religious differences. But here I was wrong. The Syrian crisis has taught us all. Will Syria, for example, survive if you ever become democratic? Or Syria will be able to maintain only a strong dictator? Culture dies quickly. As long as the country is more or less good condition, people are tolerant to each other. But when the situation is getting worse and worse. Culture disappears with dangerous speed," he says.
Comments
comments