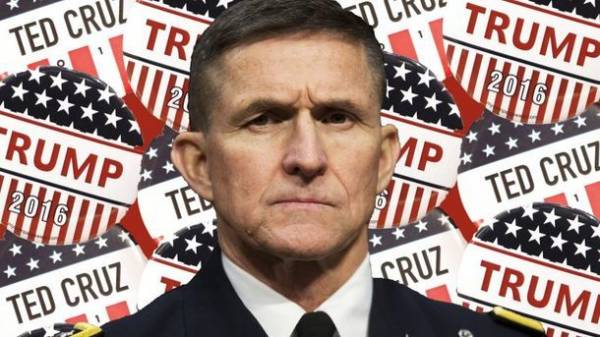 Michael Flynn, who was dismissed from the post of national security adviser of the President of the United States, retroactively registered as a foreign agent after he paid 530 thousand dollars for lobbying in favor of the Turkish government. Reported by the Associated Press, reports "Ukrainian truth".
Former U.S. army General has submitted documents to the justice Department, which indicate that he worked in the Turkish campaign from August to November 2016, when he was adviser to the then candidate for US President Donald trump.
The campaign has received information about the cleric, Fethullah Gulane, who resides in Pennsylvania and which Ankara accuses of organizing the coup attempt to overthrow the Turkish President Recep Tayyip Erdogan.
Firm Flynn also tried to put pressure on the US authorities to take action against Gulen, and perhaps agreed to his extradition to Turkey.
Employees of the company Flynn met on this issue with representatives of the national security Committee of the house of representatives.
In October last year, Flynn published a column in the Washington newspaper The Hill in which he stated that Turkey needs the support and repeated the warning about Hulene Erdogan, whom he called the "shadow" of the Turkish Muslim cleric. Flynn argued that the US should not be Gulen's "safe haven."
Turkish businessman Yakim Alptekin, who hired consulting firm Flynn, said that the documents the Department of justice was filed in response to the pressure from the officials of the Ministry of justice in recent weeks and he does not agree with Flynn's decision to file registration documents.
The Alptekin also said that demanded the return of 530 thousand dollars because he was not satisfied with the result of the work of Flynn company.
The Alptekin said that is irrelevant to the Turkish government, however, he is a member of Turkish business Council, led by Erdogan appointed official.
In addition, the businessman has arranged a meeting with Flynn's Minister of foreign Affairs and the Minister of energy of Turkey, when they were in new York at the UN Assembly.
According to the American law on registration of foreign agents, U.S. citizens who lobby on behalf of a foreign government or political organization must register with the Ministry of justice.
Willful evasion of registration is considered a crime, although the Ministry of justice has rarely filed a lawsuit in such cases.
Recall, February 13, Flynn resigned from the post of national security adviser of the President of trump after it became known that he was misled by White house officials regarding contacts with Russian Ambassador Sergei Kislyak during the presidential campaign.
Comments
comments