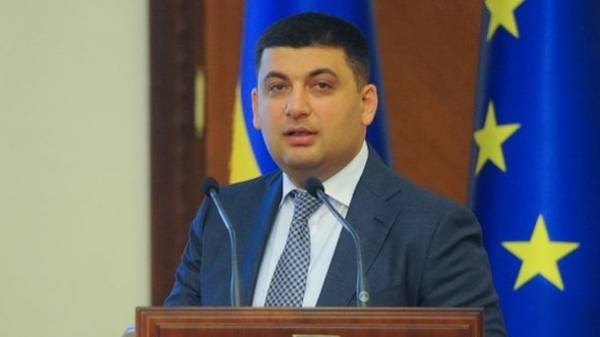 Energy blockades pose a threat to the domestic industry that undermines the national economy and to implement social programmes and the maintenance of national security.
This was stated by Prime Minister of Ukraine Volodymyr Groysman, speaking to journalists in Vinnytsia, reports the Government portal.
According to him, "the blockade is solely in the interests of the Russian Federation".
"Today 2-4 billion UAH every month we lose. It today and the price of losses from the blockade," – said Groisman.
He stressed that the Ukrainian mineral resources, including coal, are now in the territory which is temporarily not controlled by Ukraine.
The Prime Minister stressed that anthracite coal Ukraine needs technologically. A third of Ukraine's electricity is produced from coal: – anthracite, which is not mined in government-controlled areas, some of the coal grade "G", which is produced in the controlled territory.
In addition, Groisman noted, anthracite coal is needed for the needs of Ukrainian metallurgy in the field which employs 300 thousand people.
"This complex is essential for the export of Ukrainian goods and receipt of currency in Ukraine. In turn, this maintains the monetary balance of national currency", – he added.
The Prime Minister noted that the companies that produce the coal and the components that are needed for the industry, worked on the uncontrolled territories, but all of them were registered in Ukraine and pay taxes to the Ukrainian budget.
"What we took away his Ukrainian coal and used in order for the Ukrainian metallurgy and energy, it was in the interests of Ukraine. We got taxes to the Ukrainian budget that funded all the needs that was needed. It is obvious that the blockade will pay every Ukrainian their losses," – said Groisman.
He assured that, in the absence of supply of the required coal companies can buy it only in USA or the Russian Federation.
As reported, in late January the participants of the ATO and some MPs initiated a blockade of the railway crossings, on which the coal of the anthracite comes from temporarily uncontrolled territories for thermal power plants of Ukraine. According to the government, all supplies were stopped on February 10.
Also the participants of the blockade declared its intention to block all railway stations and highways on the boundary line.
In addition, the protesters said they plan within a month to take effective control of Ukrainian" 8 all major rail border crossings, which conducted trade with Russia.
On 5 March, the police opened criminal proceedings on the fact of blocking the movement of trains in Konotop Sumy region under part 1 of article 279 of the Criminal code of Ukraine "Blocking of transport communications by the device of obstacles which broke normal work of transport or created danger to life of people".
Later the situation with the blocking of the railway in Konotop was settled, the protesters agreed not to obstruct the movement of trains and to leave the place of blocking.
Comments
comments