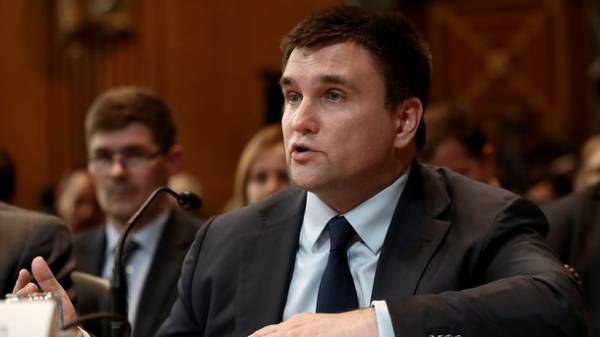 The only way of interaction with Russia from a position of strength. This was during a speech at the Committee hearings of the U.S. Congress, said foreign Minister Pavlo Klimkin, transfers TV channel "112 Ukraine".
"The only right way of interaction is the interaction from a position of strength. Any agreements with Russia should not be signed until they meet all provisions of the Minsk agreements. Thank you for the extraordinary support of the United States provided to Ukraine, in particular in the last three years in our struggle against Russia. We are grateful to the US administration for the support and hope that it will continue. And this support not only in the interests of Ukraine, but also in the interests of the United States, and in the interests of freedom and stability of the Transatlantic Alliance. I ask this Subcommittee's strong support in certain directions. Technical assistance will provide US, will send correct signal to the Kremlin and strengthen the stability of Ukraine", – said the Minister.
Klimkin also urged the parliamentarians to support the allocation of financial aid to Ukraine.
"I ask you to support the proposals on the allocation of aid to Ukraine by number of NDAA-2017. Please accept the project of financial assistance to Ukraine on the tax budget in 2017 and 2018, Also Ukraine needs long-term security arrangements. The involvement of the United States will be the key in such arrangements," – said the Minister.
As reported today, March 7 Minister of foreign Affairs of Ukraine Pavlo Klimkin met with U.S. Secretary of state Rex Tillerson. During the meeting the sides touched upon a number of important issues, including US involvement in resolving the conflict in Eastern Ukraine. The meeting lasted about 40 minutes.
The Minister of foreign Affairs of Ukraine Pavlo Klimkin on March 6-7, left for the USA on a working visit. In addition to meeting with Tillerson, Klimkin was scheduled to meet with representatives of the presidential administration and U.S. Congress.
Comments
comments