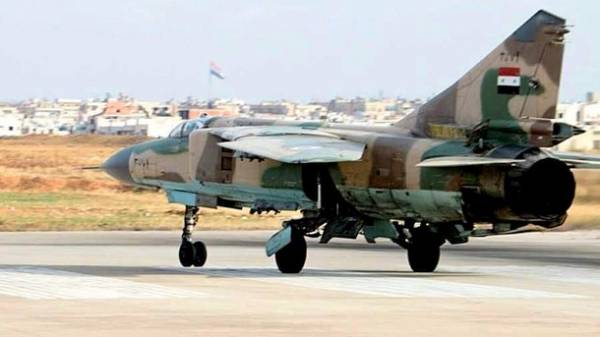 The MiG-23 Syrian air force fell on the Turkish-Syrian border. About it reports UNN with reference to the Haber Turk TV.
The Governor of the Turkish province of Hatay Erdal ATA said that search teams found the wreckage on the Turkish-Syrian border. At the crash site the bodies of the pilot are detected. It is assumed that he managed to eject and was able to land on the territory of Syria and Turkey. The search for the pilot of the gendarmerie and the police.
Later, the Governor of Hatay province said the discovery of the wreckage. "According to recent reports, the gendarmerie and the paramedics found the crashed plane. The cockpit is empty. We believe that the pilots ejected", — quotes RIA Novosti message of the Governor Erdal ATA. He added that the Syrian aircraft did not invade the airspace of Turkey, and the Turkish air force did not commit any action.
News portal "al-Masdar" reported, citing a military source that the Syrian air force really lost contact with one of its aircraft, which was flying at low altitude in the province of Idlib. The source stressed that the cause of the crash could be engine failure.
According to some media reports, members of the radical group "Ahrar al-sham" claimed that he shot down a MiG-21 in North-West Syria.
Like RT, this is not the first loss of the Syrian air force over the past few months. So, in December 2016, the MiG-23 Syrian air force crashed near the military airport of al-Tifor in the province of HOMS. The reason was a technical fault, the pilot was not seriously injured. Then, in December, Lebanese television reported that the militants in Eastern Aleppo managed to shoot down the aircraft of the government army SAR near the local airport, the crew perished.
Recall that Turkey is already more than six months spent in the North of Syria a military operation against Islamists. At the end of the month the Turkish military was able to liberate from the terrorists organization "Islamic state" the city of al-Bab.
Comments
comments