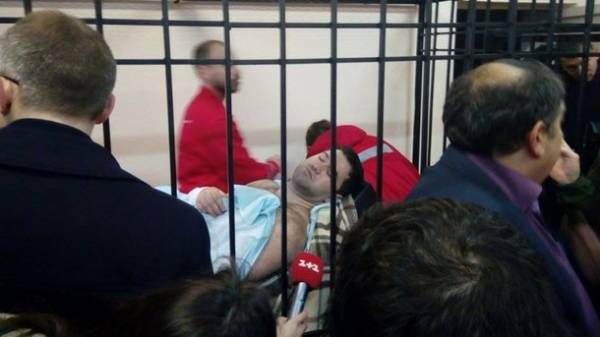 A survey of the SFS head of the Roman Nasirov Institute of cardiology named after Strazhesko on Saturday revealed no acute emergency cardiographic pathology.
This is stated in the conclusion of the medical Commission of the Institute of cardiology, which was at the disposal of "Ukrainian truth".
"As a result of examinations (ECG, Echo-KG, blood pressure monitoring, biochemical blood tests) data on acute emergency respiratory support no pathology", – the document says.
"Given the lack of earlier KVG and other objective data, specification of the diagnosis it does not appear possible in this regard, it is recommended that further examination in a multidisciplinary hospital", – noted in the conclusion.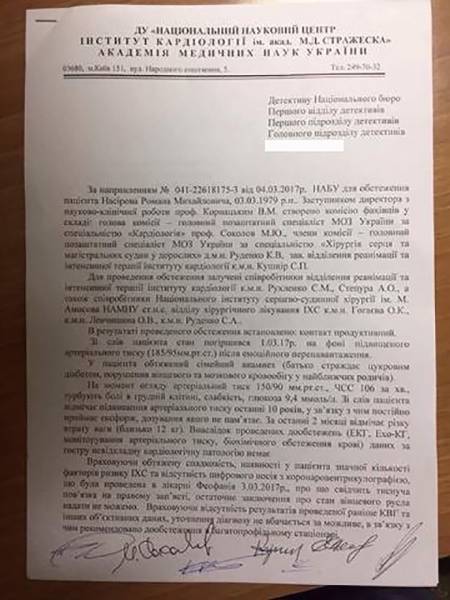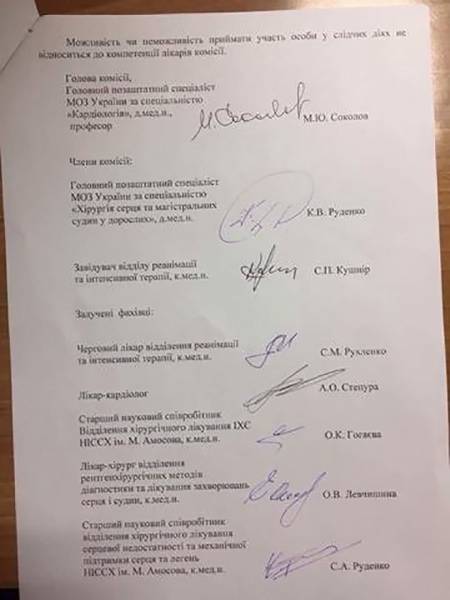 As earlier reported, the lawyer Nasirov Alexander Lysak stated that the Institute of cardiology named. Strazhesko are unable to give an opinion on the condition and the diagnosis of his client, as it brought no medical records from the hospital "Feofaniya" where he was treated before.
The lawyer also said that the doctors were unable to give an opinion on the possibility Nasirova to participate in judicial actions. He didn't mention that the SFS head revealed no acute emergency pathology.
Recall now started meeting Solomenskiy district court of Kiev for election of a measure of restraint to the head of the State fiscal service Novel Nasirova, suspended from duty during the investigation.
2 Mar Novel Nasirova handed suspicion. During this time he became ill. According to lawyers, the suspect was delivered when the President of the SFS was already unconscious, which is illegal.
Roman Nasirov is suspected of abuse of office and embezzlement of public funds in the amount of over UAH 2 bn. The consequence considers that Nasirov, acting in the interests of the Deputy Onishchenko, the "gas business" were arbitrarily granted a number of enterprises the possibility of tax liabilities in installments.
Yesterday, 3 March, the Cabinet Nasirova was removed from the post of Chairman of the SFS, with responsibilities for the head office to the acting Deputy head of the GFS Miroslav Sold.
March 4, Nasirova was moved from the "Theophany" in the Institute of cardiology named. Strazhesko for confirmation or refutation of his state of health. However, according to the lawyer Nasirov, the doctors were unable to establish the diagnosis official.
Comments
comments