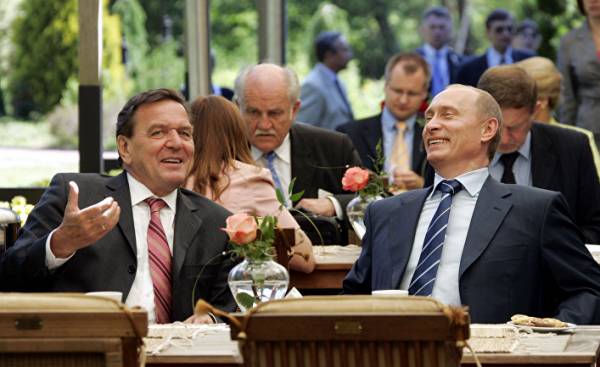 The SPD — a party without which it would be impossible to represent Germany. Even those who do not cast their vote for the SPD, can only subscribe to the belief that it represents: disarmament, peace, European integration, child cleaners, single mothers should have the same chance as the child of a millionaire.
And Yes, Gerhard schröder was a good Chancellor, who left Germany in better condition than it was at the time of his coming to power.
In relation to the history and claims himself to himself to come to the conclusion that while Schroeder gets at least a ruble from the Kremlin, the SPD should be abandoned by the Chancellor in the presidential race.
Putin's policy goes against everything that I believe members of the SPD. He supports the Syrian war criminal Bashar al-Assad (on account of his more than 470 thousand deaths). The Russian occupation of Crimea is contrary to international law.
Millions of Germans celebrated the adoption of the law "marriage for all", which without the SPD would not be possible. The head of the Chechen Republic Kadyrov has received a generous investment from future employer Schroeder, Rosneft. Kadyrov is not a fan of the "marriage for all" — he systematically pursues non-traditional sexual orientation and use torture against them.
According to the German services, the Kremlin's goal is to influence the election campaign in Germany with cyber attacks. These efforts, the Kremlin could spare, while shredder is actually in the Kremlin and at the same time publicly criticized Chancellor Angela Merkel.
If Gerhard Schroeder believes that Putin is his friend, that's his business. If he wants to help his party, he will come out of the election campaign.
Comments
comments