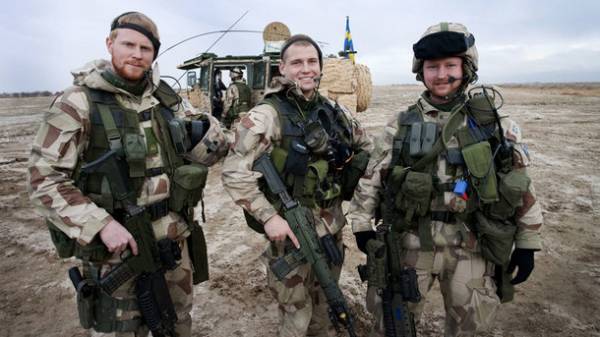 The Swedish government has decided to bring back compulsory military conscription, the press Secretary of the Ministry of defense Marinette, Radebe.
"Russian military activity is one of the reasons," she said, reports the Russian service Bi-Bi-si.
From 1 January 2018 the service will be called about 4 thousand boys and girls. They will choose from 13 thousand people born in 1999, who will be asked to take psychological and physical tests.
Conscripts will serve 9-12 months. The purpose of the call is to motivate young people to become military professionals and Fund mobilization reserve.
In Sweden had mandatory military conscription until 2010. Called on only men.
Sweden is not part of NATO, and Finland, but both countries cooperate with the Alliance. Neighbouring Norway and Denmark are members of NATO.
Press Secretary of the Ministry of defence of Sweden also stated that 70% of MPs support the government's plans to strengthen the armed forces and closer military cooperation with neighboring countries.
In April 2014 Sweden, Norway, Finland, Denmark and Iceland signed a document on strengthening military cooperation. This step was perceived by many experts as the convergence of Sweden and Finland with NATO.
Sweden and Finland, where many residents believe the behavior of Russia in the Baltic sea region unpredictable, have taken various steps to enhance its security.
In the beginning of 2016, it became known that Sweden will return its military to the island of Gotland in the Baltic sea, where during the cold war, there were about 20 thousand soldiers.
Finland is preparing for a possible occupation of Russia located in the Baltic sea, the Aland Islands, was declared in the summer of 2015, the Minister of defense Jussi Niinistö.
Comments
comments