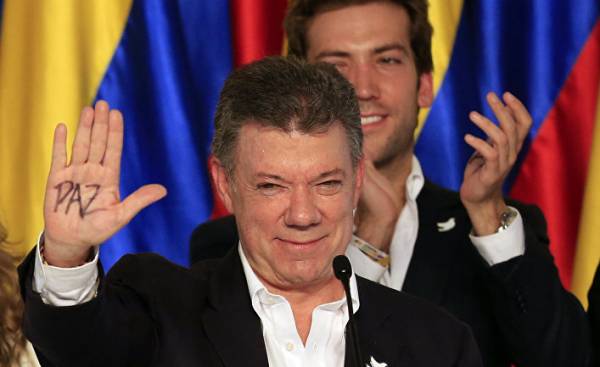 Has just announced the results of an interesting survey recently conducted by the center for public opinion research IPSOS-Public Affairs, whose purpose was to establish the degree of popularity of presidents of Latin American countries. The survey was conducted between November 2016 and January, and was attended by nearly three hundred respondents from various corners of the continent and journalists specializing in this issue.
According to the survey, the most popular on the continent are the presidents of Colombia, Uruguay and Argentina: Juan Manuel Santos (74%), tabaré vázquez (70%) and Mauricio Macri (64%).
The high rating of the Nobel peace prize winner Juan Manuel Santos can now experience some decline due to indirect accusations of receiving money from engineering and construction Odebrecht holding company to Finance his election campaign. By a strange coincidence, the same allegations made against former Colombian President Ernesto Samper, who had just refused the post of Secretary General of the Union of South American Nations (UNASUR). As a result, he still can not enter the territory of the United States, which denied him a visa.
The worst performance of the President of Ecuador Rafael Correa (36%); Cuban dictator Raul Castro (31%); accused of corruption by the President of Brazil Michel Temer (30%); the President of Mexico Enrique peña Nieto (25%); and, of course, the President of Venezuela Nicolas Maduro (pathetic 6%), rejected by his people.
Three regional leaders, the activities of which support a significant portion of the population, are: the President of Peru Pedro Pablo Kuczynski (61%); Chile's President Michelle Bachelet (58%). With a significant gap is irremovable President of Bolivia, Evo Morales, who was supported by less than half of respondents (41%).
But negative data about the evaluation of presidents: Juan Manuel Santos (23%); tabaré vázquez (14%); Mauricio Macri (14%); Rafael Correa (58%); raúl Castro (64%); Michel Temer (26%); Enrique peña Nieto (67%); Pedro Pablo Kuczynski (12%); Michelle Bachelet (40%); Evo Morales (56%); and, finally, activities hated by the people of nicolás Maduro does not approve of 91%. Incredible.
It is possible that soon the rating of Mexican President Enrique peña Nieto will begin to grow as a result of the rise of nationalist sentiment, which can occur if he succeeds in a serious confrontation with the President of the United States Donald trump on trade and immigration issues.
This is the case in Latin America. Relatively calm, at least outwardly, for the heads of Colombia, Uruguay, Argentina, Peru and Chile. More difficult for presidents of Bolivia and Ecuador. And frankly bad, anyway, in terms of popularity, the leaders of Cuba, Brazil, Mexico and Venezuela.
Comments
comments