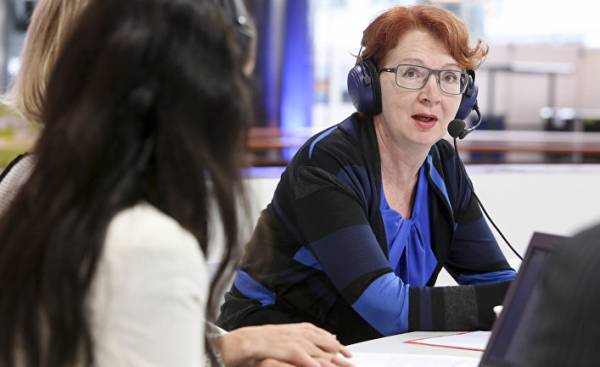 The MEP Yana Toom called outrageous the lack of any reaction from the journalistic community in Estonia to the attempt of the Minister of education Mailis reps to slander the Russian news site Sputnik, which is considered in Estonia propaganda media, and explained the fear of journalists to the security Police (KAPO).
"I was in this situation are most touched by the reaction of the journalistic community, primarily Russian-speaking, do not intercede for Sputnik. Because Sputnik is our colleagues, we know them all, we know who works there. They just do not have enough space in the shrunken Russian editions. They can slander, you can say that they did not observe absolutely no rules of journalistic ethics, stood listening — and no one stood up. And it's outrageous," said Toom on Friday on air of TV channel ETV+.
In her opinion, the lack of reaction caused by fear. "I think that people are afraid. I really think I'm afraid of the security Police, which advised not to communicate with Sputnik. Possible. I'm not a big fan of Sputnik, it's not very high quality resource, but that's all. Have substandard resources in bulk" — said the MEP.
In recent weeks, the Russian news Agency Sputnik Eesti has published two interviews with the Minister of education and science Mailis reps. However, in answering in this context, the question of the publication Postimees, the Minister said that no interview for Sputnik, she did not give. "I know this "interview" was alarmed and some official agencies in Estonia, but the Ministry is concerned — where did these words if I did not communicate with Sputnik," said Reps.
After this, the Russian portal has published video and audio recordings of the interviews, confirming that the reps understand with the journalist, the publication she talks. In the end, the reps apologized for his comments Postimees, explaining their usual carelessness.
According to Toom, the old practice to say the Russian one, and Estonians — on the other, is no longer working. "With regard to maylis, I think she fell into the trap of stereotypes, when Russian can say one thing and Estonians — more. So it was, but most of it is not so," she said.
Commenting on the situation, the Chairman of the Centrist party, Prime Minister jüri Ratas said the REP apologized and learned from this incident, and the position of the government about Sputnik is unchanged. "The attitude of the government, of course, Sputnik has not changed. We don't give them an interview, that's for sure," said the Prime Minister.
Comments
comments