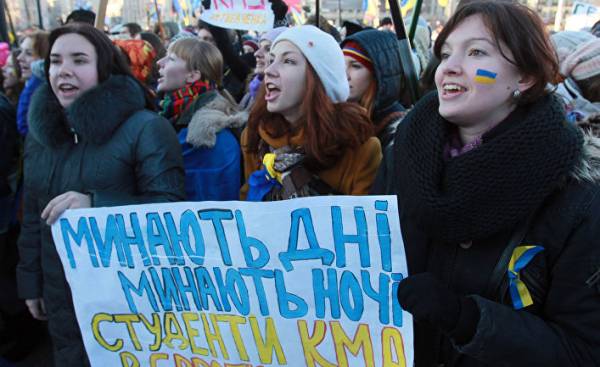 Kyiv — According to the State border service of Ukraine, in 2016, the Ukrainians crossed the border of their country, more than 20 million times. Of them on the border with Poland had 10 million, Russia — 5 million, Hungary — $ 3 million, said in an interview with DW Oleh Slobodian, the assistant to the head of the State border service. "This data is only for our internal statistics. This includes so called "Shuttle traders" who trade in the border areas and I can one day cross the border several times. That is, these millions do not indicate the number of border crossing separately by each citizen", — said Slobodyan.
Very many go to look for work. Despite the war, there a great flood in Russia. "But since for the past several years, we do not keep statistics about the destination, it's hard to say how many of them go to work. Approximately, in my estimation, one of those 5 million who have left to Russia, go to work 30-40 percent," concludes the border guard.

Why silent Ukrainian statistics?
Collecting material, DW faced with the fact that it is difficult to find specific figures for migration of Ukrainians: many leaves to work abroad, how much there is to learn, how many remains. Report of the State statistics service of Ukraine for 2016 yet. The document for 2015 which is available on the Internet, the number of economically active population amounts to slightly less than 17 million people. But it is not specified how many of them worked abroad.
Ukraine doesn't know much about its citizens, I'm sure Ella Libanova, doctor of Economics, Director of the Institute of demography and social studies named after Ptukha of the National Academy of Sciences of Ukraine.
According to experts, the real numbers reflecting the migration processes in Ukraine, there is now no one, since the main problem is the lack of data about the population. "The last census of inhabitants of the country was conducted in 2001, while the UN recommends doing it once a decade. You won't find reliable statistics, including how many Ukrainians go to work. What is happening today with Ukraine's population, I, as a demographer, don't know," confessed the scientist.
Neighbouring countries take minds and hands
To obtain at least some information of the Institute of demography and social studies of Ukraine established contacts with organizations of Ukrainian immigrants. "This is the most reliable source. The majority of Ukrainians went to work in the EU, taking advantage of the visas, which are impossible to work with. If, for example, Polish employers are asking their government to issue permits for legal employment of seasonal workers, a million of Ukrainians, we understand that there are a million really is," — says Ella Libanova.
It is difficult to fix the number of Ukrainian students studying abroad. Civil service statistics such data is not available. It is known that in 2015 the country's universities produced 374 thousand bachelors. According to demographer, young people from Ukraine willingly goes for the undergraduate to Poland, the Czech Republic and Slovakia. These countries receive from the EU grants calculated on a certain number of students. But today the poles, Czechs, Slovaks go further West, so their is Ukrainian youth.
The slogans that the future of Ukraine lies in Europe, was sounded on the Maidan in 2014
The population of European countries is aging, so the universities and colleges in Eastern Europe are willing to take the Ukrainians because of the similarity of language, cultural traditions, a common Christian religion. In addition, in recent years in the Ukrainian cities, representatives of universities of Poland, Czech Republic massively campaigning to come to them to study. Among the benefits for Ukrainian students — no entrance exams and tuition fees. The students can earn.
Leaving the country highly qualified biochemists, chemists, physicists, engineers, doctors. In recent years, began to leave and humanists. How much a Professor is difficult to say. According to her, Lviv universities can't keep from leaving for work and professors who are older in age. European University for four academic hours per month to pay them 2,000 euros even provides translator.
West attracts high-level life and faith in the dream
"Three out of five Ukrainian students with bachelor's degree looking abroad the opportunity to obtain a master's degree. That is our statistics," — said in an interview with DW Director of the career development center Stud-Point Vladimir Shvets.
According to him, in 2015-2016 70 thousand Ukrainians have received training abroad, mainly in Europe. But back home no more than 20 percent. Many young professionals go abroad to open a startup that is prestigious and fashionable. But they don't quite understand that in the West their dreams can also quickly break the harsh reality, thinks Vladimir.
Its center is engaged in employment of graduates and students in Ukraine — and he is not campaigning to emigrate. According to Vladimir Shvets, you can make good money in a small start-up to a Ukrainian company. "There are more opportunities to reach their potential than in an international Corporation, with its stringent rules, standards and long career ladder," he said.
However, to evaluate the situation with the emigration of Ukrainians is not worth it, says Ella Libanova. Ukraine for centuries let go of people in neighboring countries. "Just in the Soviet years went to Moscow, deep into Russia. Now go to Poland and further West," she says.
Comments
comments