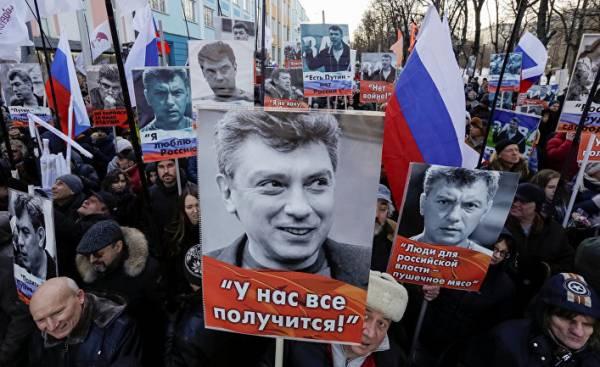 Marco Rubio, the Republican Senator from Florida, to claim in 2016 for the U.S. presidency, offered to rename one of the Washington areas in square feet.
In case of approval of the initiative of Embassy of the Russian Federation in the USA will receive the address "Boris Nemtsov Plaza, building 1".
Rubio introduced the draft resolution on renaming the square in front of the Russian Embassy in Washington to "Boris Nemtsov Plaza" (Boris Nemtsov Plaza) in memory of politics-the opposition leader, who was killed two years ago in Moscow.
"Creation "Boris Nemtsov Plaza" will be a constant reminder to the Putin regime and the Russian people that the voices of dissent will to live and the freedom not to silence, — said in a statement Marco Rubio, published in the second anniversary of the death of Boris Nemtsov. — Whether a street sign or thousands of letters at "Boris Nemtsov Plaza, building 1″, it will give a comprehensive signal to the Kremlin that the intimidation and murder of opposition will not go unnoticed".
As previously reported, "Voice of America" the organizers of the action in memory of Boris Nemtsov, held in Washington February 26, active role in the promotion of this initiative has played a coordinator, "Open Russia" Vladimir Kara-Murza.
The opposition leader, who is recovering from re-poisoning, thanked Senator Rubio for his page on "Facebook".
"This initiative is a precedent: in 1984, the same Senate resolution renamed the square in front of the then USSR Embassy in Washington (now the residence of the Russian Ambassador) to the square of Andrei Sakharov, writes Kara-Murza. — Needless to say that the Soviet foreign Ministry was furious. But in the early '90s, the authorities of new Russia have established a bust of Sakharov in the Embassy building".
U.S. Ambassador to Russia John Tefft visited the Bolshoy Moskvoretsky bridge, which was killed Boris Nemtsov to honor the policy, and the US state Department on Monday issued a special statement.
"We again call on the Russian authorities to take all necessary steps to ensure that persons involved in the murder of Boris Nemtsov were brought to justice," the document reads.
Action in memory of Boris Nemtsov were held last Sunday in several U.S. cities, including Washington, new York and San Francisco.
At the event in the American capital was, among other things, read out a message from democratic Senator Ben Cardin. Member of the international Affairs Committee and one of the initiators of the Magnitsky Act, Nemtsov called "an example of courage in the protection of fundamental rights of the citizens in his beloved Russia."
The anniversary of the death of former Deputy Prime Minister of Russia and well-known critic of the current President Vladimir Putin, according to Cardin, is a reminder that "we need to strengthen action against impunity".
Comments
comments