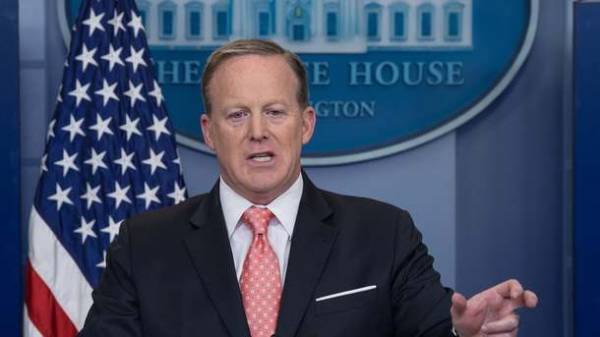 The crisis associated with Qatar, should be resolved immediately, and the U.S. in contact with all stakeholders to achieve this goal, said the press Secretary of the White house Sean Spicer.
"The United States want to de-escalate and resolve the problem as soon as possible", – he said Tuesday at a briefing.
According to Spicer, United States "continue to stay in close contact with all parties to resolve this issue, restore the cooperation that is so important for security in the region."
He stressed the necessity of combating the financing of terrorism.
As noted by Spicer, "this topic is not new, the voltage at Qatar's neighbors some time has already taken place". "The situation has been communicated through appropriate diplomatic channels", – said the press Secretary of the White house.
Earlier Tuesday, U.S. President Donald trump responded positively to the decision of several countries to break diplomatic relations with Qatar and suggested that this crisis may allow you to defeat terrorism in the world.
Commenting on the "Twitter" the situation of Qatar, he expressed satisfaction that his recent visit to Saudi Arabia is already yielding fruit.
"They (Saudi authorities – ed.) said that there will be tough fight against the financing of extremism, and everything pointed to the fact that the blame (Finance – ed.) Qatar. Perhaps this will be the beginning of the end for the terrorist nightmare," said D. trump.
On Monday, Saudi Arabia, Egypt, United Arab Emirates and Bahrain announced the severance of diplomatic relations with Qatar. Later in the day they were joined by Yemen, Maldives, Mauritius and the government of the Eastern part of Libya.
Saudi Arabia, which heads the Arab coalition in the fight against Yemeni Houthi rebels, also said that Qatar will be removed from the structure of the coalition.
The reason for such measures was the accusations against the Qatari authorities in support of terrorist activities, including "al-Qaeda" and the group "Islamic state".
Comments
comments