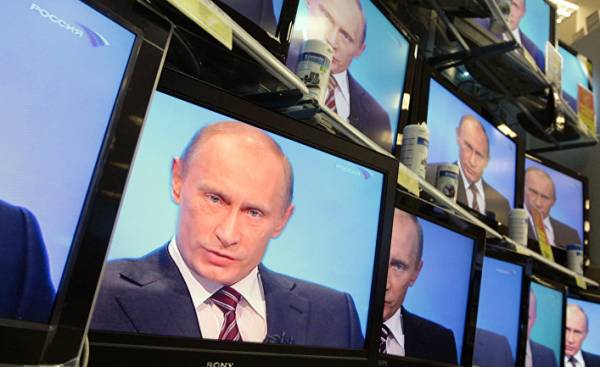 In Moscow announced the introduction of restrictive counter-measures against the United States because of the adoption by Congress of new sanctions against Russia: Russia withdraws from the American Embassy dacha in Serebryany Bor and warehouses in Moscow. Whether the Kremlin has the opportunity for a more stringent response States, "Apostrophe" said Russian journalist and publicist Leonid Radzikhovsky.
Russia has no opportunity to respond to US sanctions. Us senators and billionaires do not open accounts with Russia, not in Russia buy apartments and houses, do not go here for treatment, study, marry. So this is a unilateral movement, because the Russian elite is committed to the West and to America. Russian can't pinch the American elite, because it here does not seek. Business they are doing here, but the business away from them, no one will, as, indeed, and Russian in America business is not taken away.
Europeans unhappy with U.S. sanctions. Putin also told the truth that politics is politics, but the Americans under the pretext of these sanctions are trying to push Gazprom to sell its gas. And their gas, I understand, expensive. Of course, the Europeans don't want to buy an expensive and rather cheap — that's understandable. Therefore, the commercial interests of Americans disagree, obviously, commercial interests of the Europeans, which coincide with the commercial interests of Russia, or at least close. But Europe will not go against America with Russia. Russia's reputation is too badly damaged. And not only in America but in Europe too. It was not necessary idiotic to get involved in elections in France. It was pure madness. It was not necessary to alienate Makron.
Therefore, I think that the Europeans will put pressure on the United States. Any sanctions may be canceled. Sanctions are very flexible. The Americans that took the sanctions and wrote: "But the projects NASA is not relevant". Why? Yes, because in NASA projects Russia participates, and no one to replace it. Americans are interested in this, so there will not be sanctions. Where the Americans are not interested, the sanctions will be. It's not the moral teachings, and the calculation.
Putin could use sanctions to mobilize the electorate, but no one needs. It's a fairy tale, the Kremlin is fake, to which everything can be bought: Putin will hold elections, which will compose the Russian political strategists like to come up with a way of the future? You first need to figure out what to think. What kind of elections are we talking? Elections — Putin elected until 2024. This is all the master's game: how the left hand to get my right ear. Why would he want someone to mobilize, to create images of the future — it's all tomfoolery. Here is a man bought a car, papers in order, everything's out, but it is night, quietly, stealthily approaches his car and looks around twice before putting the key in the door, although this is his car. But he has such a game. He likes such games. That's all elections.
Comments
comments