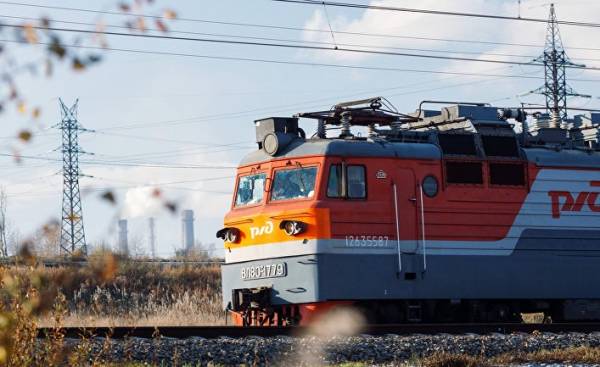 Thirty years ago, the blond Licks (Rosa Liksom) traveled on the TRANS-Siberian railway, a journey that later became the award-winning novel, "Compartment number six". Recently the writer decided to repeat their journey in the same compartment number six. Make a reportage about modern Russia and about anxiety due to the fact that Putin and trump immediately — it is too small for the world.
TRANS-Siberian train comes at track four Krasnoyarsk station.
The conductor, stylish aunt complimenting my coat and escorts with a smile to the compartment number six, wishing you a pleasant journey. I put a backpack in a metal Luggage compartment under the sleeping shelf.
On the shelf sitting in front of Mila, a young woman resembling hipsters from Berlin. She was on a business trip in Irkutsk and is now on his way home to Moscow.
Go back to the corridor where talking to the other passengers. Train new, every corner shines and shines, like a samovar. No bad smell. In the train Smoking, and a man standing near, fragrant toilet water Obsession.
The train is moving, from the speakers softly played a prelude of Chopin. An energetic old woman and a five year old girl with pigtails out of the fourth compartment. Both waving people on the platform.
We leave Krasnoyarsk, whose main street is a magnificent combination of different architectural styles. Gleaming dark tower the winter quietly Presidium colonial garden in the backyard. Behind our backs — a concrete box in the style of late constructivism, modern building, reminiscent of Stalin's Empire, and airy blue Church cupolas surrounded by Khrushchev.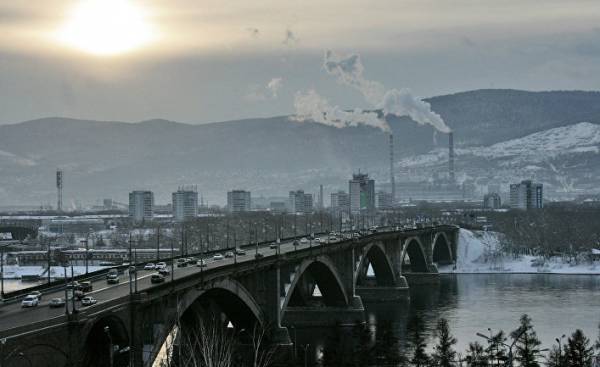 © RIA Novosti, Sergey Subbotin | go to fotobanka over the Yenisei river in Krasnoyarsk
We leave the ancient Siberian bath and washing in her Soviet women in wool caps and sneakers. They rubbed my back with a mixture of salt and honey, whipped two brooms, rubbed, a few succumb.
We leave the trendy cafés and restaurants eco-friendly, modern art museums, clubs, coffee snobs, hipsters and dandy. Energetic, pulsating Krasnoyarsk, a former closed city and a frightening stage on the way to a penal colony.
In the compartment there is a small flat TV and elegant lamps for reading, Windows — white woven curtains on the Windows, exactly the same as the grandmothers in the village houses. On the table — a white tablecloth, white vase, and in it a yellow rose made of silk.
For each passenger, cooked white cardboard boxes. Each croissant, muffin, and bread and jam, butter, cheese, sachet of black and green tea Lipton and red-cheeked Apple. Two traditional glass cups are on the porcelain plate. Hot water can take in a samovar at the end of the corridor.
Mila's phone rings.
"I'm not going to answer. Grandma's already 20 times today called. I just talked to her and never can. I was not told that I was on a business trip in Siberia, because she can't stand my trips. I can not sleep quietly, if you know what she's going through, as if with me something happens to me."
Comes the conductor Pasha in his well-fitting uniform, consisting of dark-blue skirts, white blouses and dark blue vest. Shows me how to arrange the bed. She is already dressed with white linens. Pasha said that the restaurant car is open, and if I need something, I can tell her.
Take a glass of tea from the table and go to get water from the samovar. Pasha sitting in his compartment and watching Russian TV series on the tablet. We put raspberry jam in tea and muffins printable. Mila says that she is a teacher of English.
"Dad was a miner, he took to drink when I was little. Mom is an economist, she moved to new York ten years ago. Fell in love, but then they divorced and my mother stayed there. First, he stood behind the counter of McDonald's, then was a cleaner and now works in the Russian investment companies. All of her work boils down to nothing to steal. She's thinking to return to Moscow. She loves art and culture. Believes that Russia can position itself as a cultural superpower. Not a bad idea!"
I asked Mila what she thought about the Soviet times.
"Foreigners always ask about the Soviet times. That in them such interesting? I was just a year old when the Soviet Union became Russia. I know absolutely nothing about the Soviet times."
Mila some time considering the landscape outside the window. Between the birches flashed scantily snow-covered plain stretching to the horizon. Through it runs a narrow fast flowing stream and over the rapids, the water soars. Frosty the sun covers the sky purple haze.
"Mom told me that when the Soviet Union collapsed, the Pope have not been paid for six months, although he worked two jobs. We almost went hungry, we had no relatives in the village. At some point, things got better, but when in 1998, the ruble collapsed again began a time when salaries were not paid. One day dad came home and brought Swiss chocolate cake. Instead of the monthly salary he was given chocolate cake. I remember very well his packaging. It was pale blue with a thick cow. Mom put the cake on the tray and put it on the rack in the kitchen. Left home alone, I climbed on a chair and got it. And with pleasure ate sitting at the kitchen table."
We talk about life and the problems that caused globalization in Finland, Europe and Russia.
"I followed the American presidential election on the Internet. Rooting for Bernie Sanders (Bernie Sanders) and was very disappointed when he left. No one speaks about equality, free elections, or about how to make globalization beneficial to all, as do Sanders and even Obama. We, like you, apparently, greed and rudeness are considered perfectly acceptable and respected. No one really misses the Soviet Union, but there are also other alternatives in this world, for example, an alternative to Bernie. The middle class disappointed, but so far all are still living fine."
"It's a pity that the wonderful Finnish cheese went missing from store shelves," laughs Sweet.
A knock on the door, shyly smiling, Pasha comes with a small basket. There are Souvenirs: I bought one of the thermometers in the form of small trains, coasters and notepads. Mila buys a flash drive.
When a Pasha is removed, Mila says that if the conductor wants to have a small increase in salary, she has to sell trinkets to tourists.
And continues his story.
"The powers that be and millionaires that millions in Russia, live in city centres or in private protected residential area. They buy clothes in expensive shops, and they all have their awesome expensive places: restaurants, gyms, Department stores, beauty salons, resorts, spas, and more. And those who are struggling, living in villages, small towns or suburbs of large cities. Migrants from Central Asia who have no documents, despise, while they do all the dirty work for which we do not undertake, Russian. Different classes never meet. Poor one time I was angry, but now they've surrendered. They absolutely abandoned and left to fend for themselves."
We decide to visit the restaurant car.
The curtains here red-yellow, soft seats, and tables, tablecloths with flowers. Apart from us, only three people: an Asian woman with a model figure, she is dressed in a black dress with a blue Fox boa, her son is two years and troubled mother-in-law from Tula.
I order tea, Milo takes a latte. The waitress is smiling at them, sorry, no latte machines, but the Mile will suit and espresso. I get a Cup of hot water, a Lipton tea bag and a slice of white bread, a sweet your espresso.
It's so quiet and sleepy that we are back in the compartment 6. It's waiting for us, it has its own special cozy atmosphere.
Beauty box, which is available in the train contains all the necessary hygiene items, I go to the toilet. It smells like a pine forest. I rinse face with warm water and some time listening to the soothing sound of the wheels. Mila wore soft pyjamas from H&M. She's sitting on the edge of the bed, hugging an iPad. Answering emails, communicating on social media, posting photos from Irkutsk to Instagram.
"Imagine, here is the photo that I posted yesterday got more likes than all the others put together!"
She shows a photo of his cat, who tears the book that had fallen on the floor.
Outside the window is slowly dawning. Dress up, look out the window from my window warehouse areas. The train goes very slowly and then stops at the railway station of Novosibirsk.
Mila still sleeps when I'm in a hurry to run outside with the camera. Pasha said that the train will stand for 25 minutes.
A large and powerful station, seems to have just renovated, emerald-green buildings Shine. But the doors are as heavy as 35 years ago. I get inside.
Pass security control, but a machine that x-raying baggage seem not to work. It talking about five police officers in new uniforms. There is a place for duty: there sits an elderly man dressed in a formal dark blue official uniform. He sits at the table and yawns.
A dozen species of Asian cleaners constantly wiping floors: one pushes the polishing machine, the other wipes the door handles and railings. Not here pretend to work, do work here.
The kiosks sells icons, books, Souvenirs, food, fruit, beer, clothes, medicines. In the waiting room sit two people. Two police officers examine documents of a young man who, judging by their appearance, came from Central Asia, and, it seems, there is something wrong. A scared and unhappy boy away in the back room.
I go out and walk on a pedestrian bridge in the city.
The sharp knife of a frosty morning stuck in the landscape, on the roofs of houses with turrets flashing signs banks and other advertising. In front of me, completely unfamiliar, everything old was demolished and instead built dozens of new buildings, funny and pompous. Millions of led lamps on the walls of the Department store lights hurrying people on the way to work.
Run back to the train. Pasha a sigh of relief and said that I was almost late.
Mila got dressed, made the bed and sits on the Internet. Go out into the corridor. Handsome young man Elnur took the train in Novosibirsk, he took a seat in a compartment number five. He goes in Tyumen and offers to talk.
"Are you married?" — I ask.
"Of course not. I'm still young, I'm only 28. Not finished learning, now work part time. Recently, I worked as a truck driver. Was visiting my grandmother, and now I'm going to visit my mother. My grandmother from mom, I got udmurti, but my father's mother is Azerbaijani. I was born in Azerbaijan, but we moved to Moscow when I was five. My parents divorced, my father stayed in Moscow, and the mother moved to Tyumen with her new husband. I would never want to live in Siberia. In Moscow, everything is better."
"You know that trump, America's new President, one of the most influential people in the world? This is not good, there will be war. Two cocks cannot stay in the same henhouse. Putin is a tough guy, he likes war. I was in the army a year and seven months. Not to say that it was a pleasant time. I fought in Nagorno-Karabakh and was forced to shoot at Armenians from close range. It's horrible, but in war as in war".
"Obama was a good President. Trump is a racist and fascist like Putin. Still, Putin is a pretty good job with their tasks. He no longer allows the West to humiliate Russia. We want to be proud of their country, its history and culture. We want to be accepted as equal. Not to be an outsider, not to tremble alone. We want to be part of the world, to sit at the same table as the Americans, shaking hands. After all, we the people."
Elnur going to call my mother to say that he got on the train. Mila says that her friend sent her a photo of a cardboard statues from Sheremetyevo depicting Prince Vladimir with the caption "Welcome home Crimea".
"This is my friend Sasha believes that the propaganda of the Stalinist era came back. Of course, it is true, state television produces solid manure, and people are too lazy to read the newspaper or surf the Internet."
A knock on the door, and Vanya asks where we want to dine at seven o'clock in the coupe or in the restaurant car. Choose the restaurant.
I asked Milly if she lacks the money for a decent life. She looks at me with her head tilted.
"After receiving the salary, I first buy trendy and high quality clothing or shoes, then a bit of makeup, and the balance, if any, goes to food."
When the train stops at the station in Barabinsk, we hurry to go out — I, Elnur, Mila and the Danish tourist Trine from compartment number three.
On the platform — a complete mess: running around everywhere coats the sellers offering their goods critical to travelers. Also sell fried, frozen or smoked fish, dried or salted meat, steaks, wool socks and tablecloths.
Elnur looks at me and grins.
"These aunts are the same Finno-Ugric peoples, as do you. Take it, for God's sake, something their relatives so they could buy vodka. Drunks, that's who they are!"
Pasha yells that the train goes, and we rush inside. Frustrated seller on the platform looking at me with hatred and shows the middle finger.
Trina — free a journalist, loves to Christiania in Copenhagen and explains that he spent ten days in North Korea. Trip cost 1 500 Euro and include full Board and trips around the country with a private guide.
In the dining car occupied by three tables.
One of them sits a man with a large belly dressed in straight pants and a gray wool sweater. With him is his slender friend. Mila whispers that he is a bandit. I ask how she knows this. "On the corner of his table is a map of American Express, and it's only used by villains and the new Russian".
At another table, the grandmother of Sonya and her granddaughter Pauline. Suddenly I notice my favourite decoration in the nose. For third table we sit Elnur, his neighbor in the compartment Volodya, Mila and me.
Dinner is offered in three options: meat, fish or vegetables. The wine is French, the food is home cooked and in sufficient quantity.
On the way back to the compartment farewell with Elnur: the train will arrive in Tyumen so early that we're probably still going to sleep. I stop to talk with Volodya, who all this time sat in the compartment, reading a book. He's a banker, he from Omsk, and Moscow is going to work.
"The courses immediately fell by 20% as soon as it became clear who won the American presidential election. But do not panic, sooner or later, all stabiliziruemost. Trump has investments in Russia, maybe it will positively affect the relationship between him and Putin. Businessman seeks to make money, and if it can be done in Russia, then all is well. Worst of all — the despair and prinizhennost and chaos."
"Russia's economy is collapsing. Many foreign enterprises left the country. Even the Turkish businessmen left us, because Putin clearly doesn't understand the economy and business. It's sad. Russia, where are you going?" — asks Volodya.
We look out the window at the dense forest, which is soluble in cold darkness, and for some time silent.
"My wife and I live in a private house on the outskirts of the city. Yesterday morning I got up at five in the morning, looked out the window and saw three wolves, riscassi at the edge of the forest. When very cold, they come closer to the people. They kill and eat stray dogs, but we kill wolves. So the balance is maintained".
When I Wake up early in the morning, the train is stationary. Mila's sleeping. I quickly dress up and go out. We arrived in Ekaterinburg.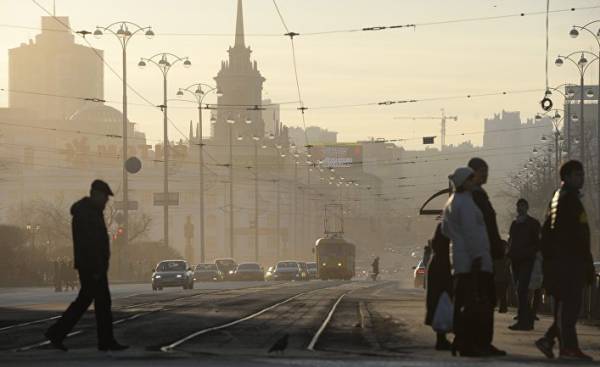 © RIA Novosti, Pavel Lisitsyn | go to photolanguage Russia. Ekaterinburg
The sun shines behind the station, from which steam rises. People huddle in the frosty fog that made the city in his arms. Gathered on the platform well-fed stray dogs, I counted 16.
Take remaining scone and a croissant and throw them on the platform. A couple of dogs come and sniff my alms, but quickly leave in frustration.
Pasha is watching what I do, and laughs: these dogs are bread not to eat, they prefer meat! Washed-out old small dog still comes back to mining and with a bored look chews a croissant.
I sapolsky back to bed, read a book, sleep again, read, draw and relax.
Consider frosty village, bravely exposed towards the cold light: some abandoned, others have received a second life, after something like a renovation. I look on the top shelf. There Mila watching a movie with headphones. By compartment number six fly one station after another. Got a Perm and dozens of small stations.
Appears in the doorway of the van with a basket of hot cakes with potatoes. We buy two juicy pie and eat them with tea.
In the evening we arrive in Udmurtia, in the small town of Balezino. Mila's no strength to go out, but is I company Trina. The thermometer shows -22.
In the snow in the middle of the platform are booths, little blue hut, as if from a fairy tale. They sell knitted soft toys, handmade goods, chocolate "Snickers" and "Mars", cookies, Coca-Cola, ginger beer, porn magazines and romance novels, quilted apparel and Souvenirs.
Trina said she loved the trip to North Korea, but her voice was heard mockery. According to her, she never ever has it been so easy to travel. Didn't have to think about anything or do anything.
In the compartment tells Mila that I have read on the Internet that evening to watch the supermoon, the last time this happened in 1948. The news is spreading on the car, and we all together are starting to really to wait for the moon.
In Balezino Volodya came comrade on the coupe, which looks like pierce Brosnan. The taxi driver Boris goes to Nizhny Novgorod. The next day we're standing in the hallway and talk. Boris says that he was born in the Krasnoyarsk region, in the city of Norilsk.
"My dad was Latvian, and after the great Patriotic war he was sent to internment camps Norillag. He was released after Stalin's death, and there he remained, married, and then I was born".
In the evening almost everyone who rides in the car, went into the corridor to look at superlow.
The sky is clear, the train flies forward, kicking up whirlwinds of snow, the stars twinkle, but no supermoon is not. But here, close to Kirov, we hear, calling us as Boris from his compartment. We throw Sweet in there and see the moon: neon, orange-yellow, covering Podnebesnaya, surreal sparkling.
"She shines equally guilty and innocent, victims and criminals", — said Boris.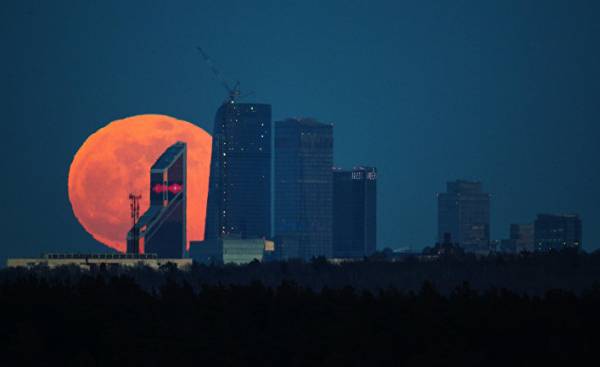 © RIA Novosti, Vladimir Sergeev | go to photosangelina over the Moscow international business center "Moscow-city"
Before returning to the quiet compartment number six, we say goodbye to our fellow travelers. Selfies and hugs. Mila and I put each other their favorite songs on Youtube and listen to the news on CNN.
Mila says that compared to trump Putin already seems to be a man, and how wonderful it would be to come home to the cat and the boyfriend.
"Of course, in Irkutsk a good latte and great sushi restaurants, but still better."
Comments
comments