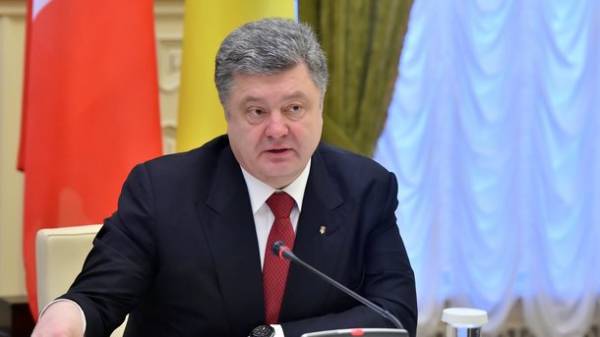 President of Ukraine Petro Poroshenko has signed the decree about introduction in action of the decision of the Council of national security and defense Council (NSDC) "the doctrine of information security of Ukraine" and approved the doctrine.
As the press service of the President of Ukraine, the document will come into force from the date of its publication.
"The need for the adoption of the doctrine of information security of Ukraine due to the emergence of actual threats to national security in the information sphere, as well as the need to identify innovative approaches to formation of system of protection and development of information space in the context of globalization and the free circulation of information," – said in the message.
The purpose of the doctrine is a refinement of the principles of formation and implementation of state information policy, particularly to counter the destructive information impact of the Russian Federation in the conditions unleashed a hybrid war.
The document defines Ukraine's national interests in the information sphere, threats to their implementation, direction and priorities of the state policy in inforsphere. Its legal basis is the Constitution of Ukraine, laws of Ukraine, the national security Strategy of Ukraine, approved by presidential decree of may 26, 2015 No. 287, as well as international treaties, consent to be bound by which was given by the Verkhovna Rada.
For the implementation of the Doctrine of the national security Council will coordinate the activities of Executive authorities on national security in the information sphere, taking into consideration the conditions and maintenance against Ukraine's aggressive information war not only on its territory but also in the world.
In this regard, the security Council will also identify key measures, in accordance with the provisions of the Doctrine.
The Cabinet of Ministers is obliged to ensure the implementation of state information policy, funding programmes related to information security, to guide and coordinate the work of ministries, other Executive bodies in this sphere.
The Ministry of information policy of Ukraine is entrusted with the organization and monitoring of the media and public resources of the national segment of the Internet with the aim of identifying information, the dissemination of which is prohibited in Ukraine.
MIP also has the responsibility to monitor threats to national interests and national security in the information sphere.
The Ministry should help the Ministry of foreign Affairs in communicating and presenting the official position of Ukraine in foreign mass media.
Doctrine also has a number of tasks for the foreign Ministry, defense Ministry, security service of Ukraine, state service of special communication and information protection, intelligence agencies, the national Institute for strategic studies.
Comments
comments