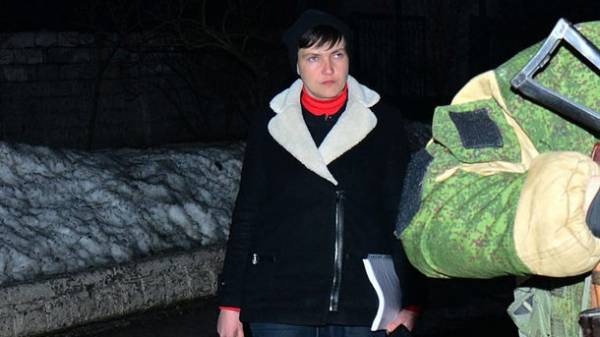 The real purpose of the visit Savchenko in the temporarily occupied territory of Donbass is not at the mercy of illegally detained Ukrainian citizens there, – said people's Deputy, the adviser to the interior Minister Anton Geraschenko.
"The real purpose of the trip set most likely by her curators, was to illegally cross the line of demarcation outside the law, checkpoints, and therefore to show that if you want, anyone can pass on the temporarily occupied territory through the positions of the Ukrainian armed forces, bypassing the checkpoint on which the accounting and control of persons and vehicles entering/exiting from the area," wrote Gerashchenko in Facebook.
According to him, this fact should not go unpunished for Nadiya Savchenko, and accompanying her. "it needs to be drawn up protocols on administrative violations – illegal crossing of the demarcation line. And the court to recognize them as violators of the established order.
Moreover, parliamentary immunity does not play any difference", he said.
"In addition, the ATO command, the APU, the SBU, the national police, Border service, DIU, SVR need to make serious conclusions regarding the effectiveness of the control over the movement of persons and vehicles in a combat zone. Because if Savchenko crossed by car, on fields, the line of demarcation, you can do it and others. And in the car these entities can be anything – explosives, weapons, drugs, dirty money to Finance terrorism in Ukraine. That Hope Savchenko and accompanying persons have already been transported to the occupied territory of Donbass actually in this time, we will never know", – he added.
As reported earlier that Savchenko and head of the center for the release of prisoners "Officer corps" Vladimir Ruban arrived in the occupied Donetsk, and then to a penal colony in Makeyevka, where the Ukrainian prisoners.
Comments
comments