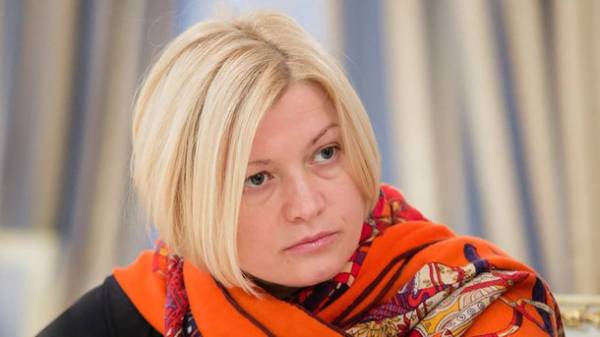 First Deputy Chairman of the Verkhovna Rada of Ukraine Iryna Herashchenko stressed that Ukraine is not to make concessions to Russia and will implement only one plan – full restoration of territorial integrity. She said this during the international forum "Crimea under occupation: consequences for Ukraine and the world" in Kyiv today.
"It is no accident recently, there are some so-called ephemeral plans, where someone in the world media or something at some conference trying to sell the idea or launch it to the masses as to what "let's try, perhaps, to consider the situation when we have to stop the hot phase of the conflict, and can it be done, to forget the Crimea", – said Gerashchenko.
In her opinion, it is such "an attempt to test public opinion not only in Ukraine but also in the world scale", and "to throw only this test shot, which, apparently, work very seriously in the Kremlin."
Gerashchenko stressed that "Ukraine has a plan – it's a complete return and restoration of territorial integrity of Ukraine". "No other plans", – said the first Vice-speaker and added that if this does not aware of countries-Ukraine's neighbors, the "following a plan – it would be aggression against another country that has the misfortune to be a neighbour of the Russian Federation".
Recall, February 20 edition of the New York Times reported that the MP from the Radical party Andrei Artemenko transferred to the White house "normalization of relations" between Ukraine and Russia to cancel sanctions.
"Plan" provides for the withdrawal of all Russian troops from Eastern Ukraine; Ukrainian voters, in accordance with the idea Artemenko, should decide on the transfer of Crimea is leased by Russia for 50 or 100 years.
Faction of the Radical party on 20 February took the decision to exclude Artemenko from among its members.
The Prosecutor's office of Crimea has opened a criminal case against Artemenko on suspicion in Commission of attempt at territorial integrity of Ukraine, in coordination with the representatives of the Russian Federation.
Comments
comments