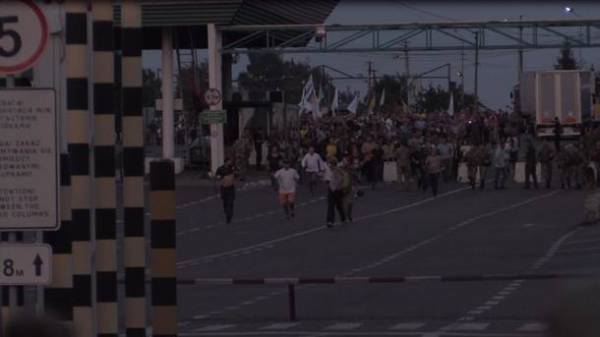 During the incident at the checkpoint across the border "shehyni" (Lviv region) illegal break a group of aggressive persons across the state border of Ukraine and related to him the fight were injured, 11 police officers, according to the Ministry of internal Affairs of Ukraine.
"11 police officers received injuries of varying severity," – said in published on Sunday evening on the website of the Ministry of internal Affairs of Ukraine on the social network Facebook clarified.
The Agency said that the protesters, trying to pass through the boundary line of the cops, knocking them to the ground, law enforcement officers were injured.
For medical assistance, 11 police officers, of which five workers of the patrol police and six soldiers of the regiment of special police. Doctors diagnosed them closed head injury and a thorax.
Police rendered medical assistance without subsequent hospitalization.
At the scene the police conduct the necessary priority measures and documents the circumstances of the incident. The results of the events will be given a legal assessment of the actions of each of the participants.
Earlier it was reported that the former President of Georgia, former head of the Odessa regional state administration Mikhail Saakashvili managed to cross the border and enter the territory of Ukraine.
Recall that in late July, Mikheil Saakashvili was deprived of Ukrainian citizenship because of the provision of false information in the application for citizenship.
The former head of the Odessa regional state administration denies any wrongdoing and vowed to appeal the decision on deprivation of his Ukrainian passport.
At the beginning of September, Ukraine received from Georgia's request for the arrest and extradition of Saakashvili. In Georgia ex-President faces up to 11 years in prison on the four felony cases. He is suspected of involvement in the killing, raiding and misappropriating public funds. In turn, the Georgian ex-President says the criminal case was fabricated with the purpose of political persecution.
Comments
comments