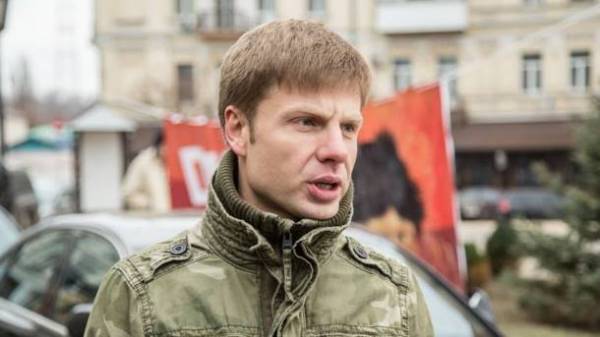 Many had reasons to steal people's Deputy from BPP Alexey Goncharenko.
This opinion on the sidelines of the Verkhovna Rada expressed MP from the faction "Block of Petro Poroshenko" Vladimir Aryev, said newsone.ua.
"Many had reasons to dislike Goncharenko for political reasons. Especially in recent times it is very hard acted against the Russian Federation. But I don't know what happened," – said the MP.
However, he expressed the belief that because Goncharenko was kidnapped in broad daylight in Odessa, then his search should be done first of all by viewing the video surveillance cameras placed in the city.
"We must act without delay. Need to professional law enforcement agencies have already started to include plans provided for similar cases," said the Ariev.
He also informed that yesterday he had a conversation with the coach, which dealt with speech in the parliamentary Assembly of the Council of Europe.
It is worth noting that the conviction of MP, information about the kidnapping Goncharenko is not fake.
"I don't think it's fake. This can be a very real event, especially because it happened in Odessa, where after the events of 2 may, some people, a professional working for the FSB (Federal security service of Russia – ed.) are still", – Aryev summed up.
Earlier it became known, was kidnapped by the people's Deputy Alexey Goncharenko. This fact was confirmed in the Prosecutor's office of Odessa region.
MP, Chairman of the BPP Igor gryniv Parliament asked the law enforcement agencies of Ukraine to establish a special headquarters in connection with the kidnapping of the people's Deputy from BPP Alexey Goncharenko.
The speaker of Parliament Andriy Parubiy requested the Secretariat are Pleased to offer this as a legal assignment.
Later people's Deputy from BPP Olga Chervakova said Alexei Goncharenko was able to kidnap a group of separatists to implement the physical torture over him.
Goncharenko, Alexey – Ukrainian politician, people's Deputy of the Verkhovna Rada of Ukraine VIII convocation, Deputy Chairman of the faction "Block of Petro Poroshenko" in Parliament, Secretary of the Verkhovna Rada Committee on state building, regional policy and local self-government. Ex-Chairman of the Odessa regional Council.
Comments
comments