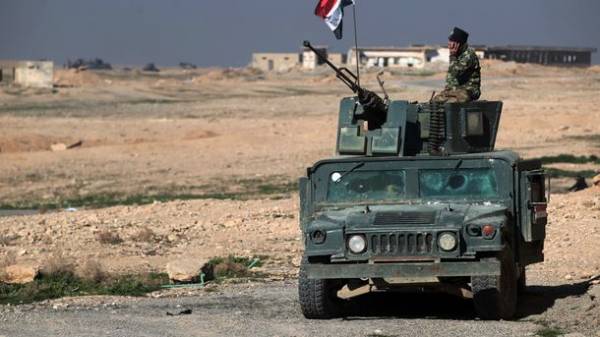 Iraqi security forces entered the controlled by terrorists "Islamic state" to Mosul airport, is an important stage of the operation to liberate the Western part of the city.
As the Associated Press, Iraqi security forces took the runway.
The runway of the airport was destroyed by militants, so the airport cannot be used for its intended purpose, but take this object will allow government forces to control the South of the road to Mosul, BBC reports.
Also, the Iraqi army attacked a nearby military camp, the Islamist al-Ghazlani, where fierce fighting.
The representative of the Iraqi army explained that attacks from two directions to go in order to scatter enemy forces. He argues that the resistance at the airport, mostly broken, and full control over the air harbour will be installed in the shortest possible time.
The offensive involved thousands of soldiers, supported by artillery and aviation.
Before this, above the residential quarters of the city held by terrorists, were from planes scattered leaflets warning about the attack.
Despite the fact that the sWestern part of Mosul is less than the previously released East, fighting for it, expected to be difficult.
About the attack on the Western part of Mosul, the Iraqi military announced a few days ago.
Ground military operation to liberate Mosul began on 17 October 2016. It involved units of the regular Iraqi army, the Kurdish militia and formation of volunteers. The international coalition led by the United States provides air and artillery support. By 18 January 2017 military completely liberated the Eastern part of the city.
Comments
comments