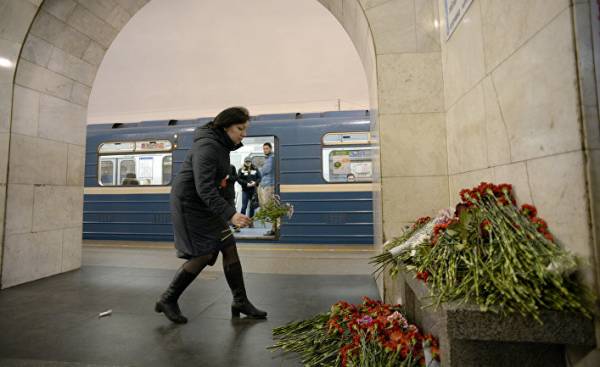 News channel RT News reported that the attack occurred Monday in Saint-Petersburg subway was the work of a native of Kyrgyzstan with Russian citizenship. Judging by the photos, it appears to be an Islamic militant.
Rarely receive news from Kyrgyzstan, a small Central Asian Islamic States, located between the three giants — China, Russia and Kazakhstan. She is one of the largest producers of gold, and her green fertile valleys are ideal for agriculture, which the country is trying to develop. The last time about Kyrgyzstan reported in the news when one of the citizens of this country committed a terrorist attack in a nightclub in Istanbul, the Turkish New year's eve, which led to numerous casualties.
And here they come back.
This is very bad news, because terrorism, as a rule, gives rise to other terrorism, contributes to the Commission of new terrorist attacks, and this may mean that the terrorist organization ISIS (banned in Russia organization — approx. ed.), which has claimed responsibility for the attack in St. Petersburg, broke into his society.
And here's another reason why it's bad: the attack raises questions about whether Russia can be useful as a partner of the West in the war against ISIS. President Vladimir Putin speaks about the terrorists in the strongest terms and is subject to availability and is able to inflict on them a severe blow. But since the Russians are afraid of any war (they all know how bad are their soldiers after the war; no social network for the participants of the military actions wounded), it is possible that this community will not support Putin.
Consequently, Russia may be too weak an ally in the fight against ISIS, despite the national interests of this country, as a cultural guardian of Orthodoxy, its geographic proximity to the territories in the middle East, which is the bulk of the terrorists, and her loud a reputation of ruthless villains. Perhaps, the Russians simply will not be able to do it, given the problems arising in the countries, known as the "near abroad" — in an abandoned Central Asian States, located along a substantial portion of the Russian southern border. In these countries, outlines a serious problem.
They — the first victim of this situation. The Russian border is largely unguarded, and in this country the largest number of illegal immigrants outside the United States (wow! in fact, this country is not so bad, what it portrayed human rights organizations; according to the world Bank, its ratings for economic freedom is quite high). And Russia is a major transit point for migrants heading to Europe via Murmansk and St. Petersburg. So the new terrorist threat associated with Kyrgyzstan is not only a problem for them; rather, it may spread to the territory of Western Europe. It is possible that they will not be able to be helpful.
In Kyrgyzstan and neighbouring Kazakhstan, there is a sudden rise of fundamentalism. Over the summer there have been several domestic incidents, clearly combining elements of a coup d'etat and terrorism, although the authorities of Russia and Kazakhstan did not take them seriously, disparagingly calling inter-tribal conflicts. Neighboring Uzbekistan gives the impression of a stable state (it is a densely populated country, which has its origin from the times of the tsarist Empire, so it is similar to formed a separate state) and fundamentalist contagion in her not yet penetrated. But other countries become problematic lesions. Besides, Kyrgyzstan is located quite close to the Xinjiang Uygur Autonomous region, where Islamic fundamentalism is a growing problem and causes in China deep concern.
Kazakhstan (which is RT in his message, calls the main potential "supplier" of suspicious persons) is characteristic and indicative of the country. The fact that there was a devaluation of the national currency, which was scary, destabilizing for those forced to live in this country, because it leads to higher prices and "eats" savings. This was done with the help of government policies, which probably was complicit in Russia — this was discussed during last summer a conversation with an economist from Johns Hopkins University, Steve Hanke (Hanke Steve), which I recall in General terms — because it allowed Kazakhstan to stay afloat in the global uranium market with its strong currency and to sell the uranium (and our) thanks to dirty Hillary Clinton. It was in the plans since 2009, and Hanke know first hand that Kazakhstan initially sought to stabilize its currency.
Weak Kazakh currency was hit by world prices for uranium raw materials (Kazakhstan is "uranium" Saudi Arabia), legitimate producers in Australia, Canada and the United States lost the ability to stay in business. In the end, the United States was only a couple of existing uranium mines, causing concern among some of my sources in the Ministry of energy. In a similar extremely unenviable position is and Australia. The situation of Canadians who control very large companies like Cameco, is better, but they also suffered.
The devaluation of the Kazakhstan currency, to bring down the price of uranium, which depends on all nuclear energy and nuclear weapons production — this was a strategy to seize control of this industry. It worked, but now we are faced with the problem of Muslim fundamentalism in this country and in Kyrgyzstan, which also suffered from the terrible devaluation for a small country, whose economy is tied to Russia and China. And they survived the devaluation in the intervening years. Kyrgyzstan is desperately trying to stabilize its currency that, apparently, she succeeds only partially. This is not conducive to the fact that this country is a major "exporter" of legal and illegal immigrants (one million people), and depends on remittances, which, according to the world Bank, are a major cause of underdevelopment of the country. But this country must pay tribute — she's trying.
Perhaps the devaluation of the currency is important in order to monopolize the market of strategic national resources, but because of it, the country suffering everything.
Now it spills across the country and transcends borders of Russia, and perhaps even further. In the absence of a strict regime based on a market economy (to create which abilities Hanke would be more than enough), the attacks in Saint-Petersburg only demonstrate a gradually worsening problems in Russia due to the countries near abroad. And these problems may adversely affect its ability to combat terrorism outside of its borders to prevent its spread.
Comments
comments