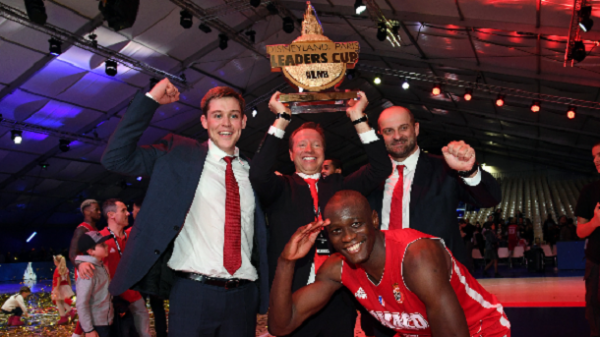 This duel has caused a special interest among Ukrainian fans, because the President of "Monaco" is a Ukrainian businessman and philanthropist Sergey Dyadechko, the team coached Montenegrin coach Zvezdan Mitrovic and its composition is the defender of the national team of Ukraine Sergey gladyrya.
Mitrovic, although it is not our compatriot, but for many fans of sports of Ukraine became practically his. Lion's share coaching career Zvezdan held in our country, leading the "Chemist", "Krivbassbasket", Budivelnik and Azovmash and his team always fought for the highest places. That is why Sergei Dyadechko, who is no stranger to the Ukrainian basketball work as President of the BC "Donetsk", invited the Montenegrin train to Monaco shortly after led the club. And Mitrovic has fully justified the confidence of the President. In addition to the won Cup this season, Monaco can boast a leadership position in the French championship and successful performance in the European Cup FIBA.
In this case three years ago, the fans, as Monaco could only dream of such vertices, since their team only played in the French third division. However, the arrival of the club Sergey dyadechko resulted in unparalleled growth. Only year the team has spent to become Champions of the third and then second division. And in his debut season in the elite League Pro A Monaco reached the semifinals of the playoffs and won their first French League Cup. In this season of Monaco rightly considered to be the main contenders for the title, and win his team Sergei Dyadechko.
Basketball club "Monaco", whose President is the Ukrainian businessman and patron of arts Sergei Dyadechko, who founded the sports charity Foundation Dyadechko Sport Fund DSF for the second consecutive year won the French League Cup Leaders Cup. On the way to the prestigious trophy "Monaco" beat "Antibes" and "Nanterre", and in the final match on February 19 at the arena Disneyland Paris won aswel 95:91. Most valuable player of the finals was named the defender of the national team of Ukraine Sergey gladyrya, in which the winning team scored 22 points in just 16 minutes.
Sergey Dyadechko headed "Monaco" in 2014, and since then the club each season, joined the club a new trophy, becoming alternately the champion of the third and second division, and after quickly left in the elite League Pro A also won two French League Cup and became the champion of the regular championship of France.
Comments
comments