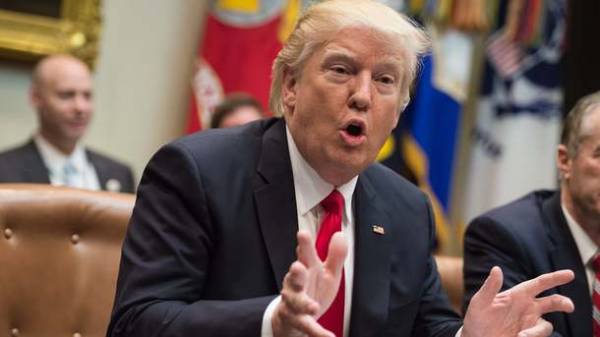 The new American President Donald trump would like to avoid the question of Ukraine on the way to the "big deal" with Russia, but she still "gets him "throat". It was in the pages of the French newspaper Le Monde writes columnist Sylvie Kaufman.
She draws attention to how painful for the Russian identity was the question of the independence of Ukraine. "Moscow responds to it very aggressive, undermining the essence of the international system, which was established after the cold war. This was an obstacle for Russia's relations with the West," notes Kaufman.
Donald trump, wanting to reset relations with Moscow, according to the author, first, forget about Ukraine, war in Donbas and annexed Crimea.
"But the revolutionary spirit of the White house has faced a lot of obstacles. Suddenly Ukraine gets throat Donald Trump in the implementation of his Grand plan. Because it has the support of many figures in Washington, in Congress, in the political and military establishment. And also because to sacrifice it just would have meant to sacrifice international law. But for the sake of this right and were introduced to the American and European sanctions against Russia," – says the article.
According to observers, this is why us diplomats and the Pentagon has taken a position on the war in Ukraine, which continues the policy of the Obama administration. So Washington started to talk about the fact that no change of course and the lifting of sanctions will not be as long as the Minsk agreement are not met, and the war in Eastern Ukraine will not end. And the Crimea, too, will have to regain control of Kiev.
At the Munich conference, U.S. defense Secretary James Mattis reaffirmed U.S. support for NATO – the Alliance that trump two weeks ago called "legacy".
The President of Ukraine Petro Poroshenko warned present from deals with Moscow behind Kiev. The Minister of defence of Germany Ursula Von der Leyen also stressed that any rapprochement with Moscow cannot occur bilaterally. And Washington definitely need to discuss this with allies.
"The truth is that the Europeans and the Ukrainians don't know what to believe: the wise words of Mattis and Tillerson or an angry message on Twitter trump," reads the article.
Earlier the press Secretary of the President of the United States Sean Spicer said that Donald trump will try to make a "deal" with Russia on counter-terrorism and economic issues.
Comments
comments