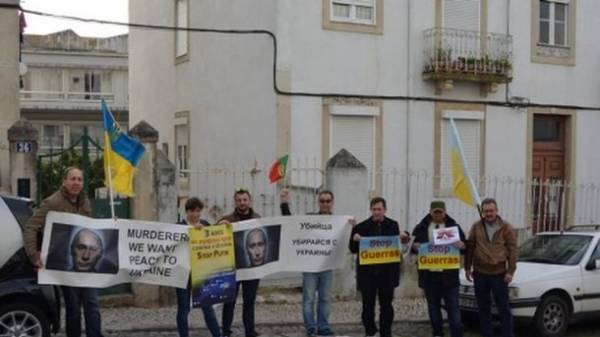 Russia's Ambassador in Lisbon was unable to attend the conference regarding the place of Russia in the international system, where he was chief Rapporteur for the manifestation organized by the Ukrainian community in Portugal.
This "European truth" reported in the Embassy of Ukraine in Portugal.
A conference entitled "the Russian Federation in the international system" took place on 21 February in Lisbon at the Institute for national security. It was attended by the Ambassador of Ukraine in Portugal Inna Ohnivets and second Secretary of the Ukrainian Embassy, Valery Nastashenko.
"Before the event, the Director of the Institute specified Vitor Daniel Rodrigues Viana said that in connection with the protest action, organized by the Ukrainian community in Portugal in front of the Institute, the Ambassador of the Russian Federation in Portugal Oleg Belous – chief speaker will not participate in the conference," the Embassy said.
According to the report of the Union of Ukrainians in Portugal, under the action of the Institute of national security was held under the slogan "the terrorists are not advised how to deal with global terrorism!".
The Embassy also said that during the conference, Ambassador of Ukraine informed the participants about the consequences of military aggression of Russia to Ukraine, in particular regarding the number of victims of the Ukrainian citizens displaced from the zone of military conflict.
"In response, the speakers confirmed that Russia has indeed violated international law, and therefore sanctions against it, should not be revoked or mitigated," – said in a diplomatic office.
Comments
comments