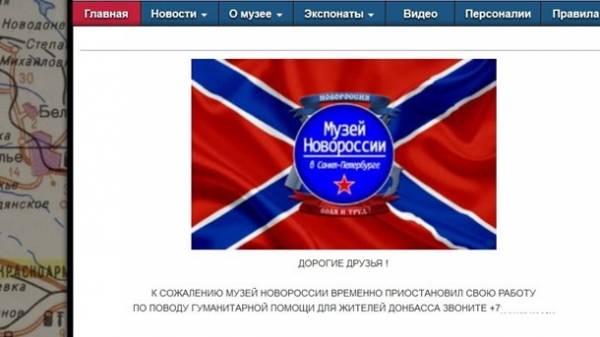 In St. Petersburg sealed "Museum "new Russia", reported the edition "news of Donbass", which published photos of the massacre in the room that had previously housed stacks of exhibits associated with illegal armed groups in Donbas.
At the moment the moment the Museum does not work, the report said.
On the homepage of the website "Museum" also has the information that it "has temporarily suspended its work."
Reliably known causes of the disorder in the "Museum", however, according to its leadership, at the end of January, there was a conflict of security guards with the police. The law enforcement officers fired after they were allowed into the room with tear gas. All the guards of the "Museum" was detained, then released three, one remains in custody, write "news of Donbass" with reference to "Moskovsky Komsomolets".
It is noted that after the incident, investigators raided the "Museum", in the apartments of his leadership.
Also, according to the newspaper, the owner of a basement where is located the "Museum" is threatening to evict him. Director of the "Museum" Herman Vladimirov told the newspaper that some of the exhibits can't move. As an example he cited the bearing column, in which militants leave their "autographs".
We will remind as it was reported, the police stormed the "Museum of the new Russia" in St. Petersburg, one militiaman was wounded.
The RF IC opened a criminal case on the attempt on a police officer. The suspect was detained.
Note that in the "Museum of Novorossiya" on display exhibits relating to the conflict in Eastern Ukraine. The Museum is open in may 2015. Officially it is called "information-cultural center" "World war".
Comments
comments